✩ miss no fucks given
EAW ROSTER
Messages

74
Likes

176
Points

33
ELITE ANSWERS WRESTLING CONTRACT
​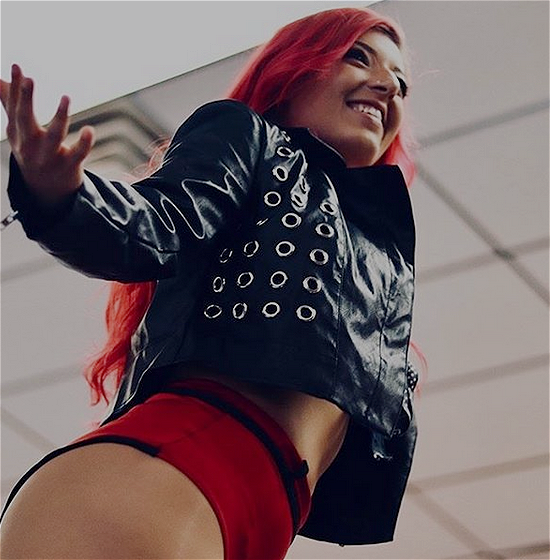 ​


✩ Wrestling Name: Harlow Reichert
✩ Picture Base: Skylar
✩ Current Nicknames: "Miss No Fucks Given"
✩ Height: 5'9''
✩ Weight: 155 lbs.
✩ Hometown: Christchurch, New Zealand


✩ Disposition/Alignment: A self-righteous, extremely confident, and borderline arrogant Tweener
✩ Gimmick: For someone who's nicknamed 'Miss No Fucks Given', Harlow Reichert certainly gives a fuck. Honestly, it hasn't always been that way. The gifted athlete began her career in Elite Answers Wrestling with the attitude that wrestling was a joke, and that the business wasn't for her. Through trail and error, set backs and triumphs, the New Zealander has slowly started to come into her own. She's blossomed into one of the best pure wrestlers on the roster, and as her attitude improves towards the business itself, her ambition grows.


✩ Theme Music: "Castle" by Halsey

✩ Special Entrance [Optional]: The character's special entrance. Write it exactly how you want it to be posted, preferably in present tense to fit the show format. If their entrance doesn't change or you don't want to write one, feel free to skip this.
MOTIVATIONS
✩ Harlow wants nothing more than to prove she belongs in EAW and in every single championship conversation.
✩ She wants to make sure that the time and effort invested into her and her career gets returned. Since day one, Harlow has always had an incredible team around her and she wants to make sure their time has not been wasted.
✩ Harlow wants to win championships and go down in history as one of the greatest female Elitists ever.


✩ Wrestling Debut: 2018
✩ Favorite Match Types: Anything that is considered a 'pure' wrestling match. Harlow is a technical genius inside the ring and on the mat is where she thrives.
✩ Least Favorite Match Types: Hardcore/Extreme matches. That type of environment definitely doesn't suit Harlow, as she likes rules and structure.
✩ Favorite Weapon: Harlow would never use a weapon unless she was competing in a match that called for one. Even then, it would be a last resort type of thing.
✩ Tendency to Cheat: Never
CHAMPIONSHIPS:
✩ None yet!
OTHER IN-RING ACHIEVEMENTS:
✩ Competed in the first ever Women's Grand Rampage match (finished 6th)
✩ Competed in the 2019 Cash in the Vault Ladder Match at Pain for Pride XII


✩

Won the 'Special Opportunity 8-Person Elimination Match at Midsummer Massacre 2019
OTHER EAW ACHIEVEMENTS
:
✩ MVE
#155
(Rising Star of the Week)
✩ MVE
#170
(Match of the Week; versus Tyler Wolfe & Constance Blevins)
✩ MVE
#189
(Promoer of the Week)
✩ MVE
#198
(Rising Star of the Week)
✩ MVE
#203
(Rising Star of the Week)
COMMON MOVES
✩ Dropkick Variations (Standing, Running, Basement, Diving. Etc.)
✩ Running Cannonball Senton (to opponent in corner)
✩ Release Overhead Belly-to-Belly Suplex
✩ Double Foot Stomp (standing, or running to grounded opponent)
✩ Snap German Suplex (release, but could also bridge into pin)
✩ Rollup - Superkick Combo
✩ Corner Forearm Smash, immediately followed by a running Facebreaker onto knee.
✩ Fireman's Carry Neckbreaker
✩ Stiff Knife Edge Chops
✩ Apron Kick (Running along the apron, soccer-style kicks opponent who's standing on the ground)
✩ Double Underhook Suplex
✩ Saito Suplex
✩ Rapid Fire European Uppercuts to a corner trapped opponent
✩ Dragon Sleeper with Body Scissors
✩ Belly-to-Back Suplex
✩ Northern Lights Suplex (sometimes rolled through and combined with a Double Foot Stomp)
✩ Springboard Back Elbow
✩ Spinning Falcon Arrow
✩ Sleeper Suplex
✩ Leaping Lariat (running, or to a running opponent)
SIGNATURE MOVES
✩ '

Harlow's Inferno

' [spinning torture rack slam]
✩ '

The Divine Comedy

' [butterfly piledriver followed by a cover (will use this to try and finish a match early)]
✩ '

As I Lay Dying

' [brainbuster to the knee]
✩ '

Atonement

' [backflip ddt]
✩ '

One Hundred Years of Solitude

'' [leaping triangle choke]
✩ '

Fate's End

' [the 'kiwi crusher'; adopted from her brother and having kept his name for it, this is harlow's premiere signature move]
FINISHING MOVES
✩ '

Les Misérables

' [flying knee that will catch the opponent right under the chin, followed by a 'Twister', which is a jiu-jitsu submission finisher]
✩ '

Great Expectations

' [bridging fujiwara armbar]
✩ '

Wuthering Heights

' [corkscrew shooting star press]
✩ UF. '

To Kill A Mockingbird

' [front flip destroyer from the apron to the floor; followed up by throwing dead weight into the ring and going for the cover]
SNZ 13 COMPETITIVE RECORD
✩

Showdown

07.13.2019: with Thadd Blazevich vs. The Mechanical Animals (

L

)
✩

Midsummer Massacre

07.27.2019: 8-Person Elimination Special Opportunity Match (

W

)
✩

Showdown

08.24.2019: vs. Viktor Stone (

W

)
✩

Territorial Invasion

09.22.2019: vs. Mark Michaels for the PURE Championship (

L

)
✩

Showdown

10.05.2019: vs. Xander Payne (

W

)
✩

Showdown

10.26.2019: vs. Ryan Wilson (

W

)
✩

Reasonable Doubt

11.09.2019: vs. Ryan Wilson, Shane Gates, & Shaker Jones (

W

)

Harlow Angelique Reichert was born on July 24th, 1996 in Christchurch, New Zealand to David and Marilyn Reichert. David is a former professional rugby player and Marilyn once represented New Zealand in swimming at the summer Olympics. Truth be told, Harlow was one of those accidental babies that old people have late in life because they don't think they can get pregnant anymore. Her older brother, Aron (a professional wrestler in his own right and co-owner of Combat Church in Albany, New York), is nearly a decade older than her.
Harlow was one of those people who never really had to try in order to be at good something. She was just naturally gifted at whatever she tried. Unfortunately, Harlow is also the flakiest person alive and never stuck with anything she tried. This was a common theme as she grew up. The Reicherts gave Harlow an ultimatum the day she turned 20. They told her she had a year to find something to do with her life or they would no longer support her financially. Harlow didn't take them seriously and continued to march to the beat of her own drum. The day of her 21st birthday, the Reicherts told her she had to get out of their home.
A month or so went by, and it dawned on Aron that it had been awhile since he heard from his sister. He rang his parents and asked about her when he couldn't get in touch with her himself, and was actually furious. The siblings actually got along well, despite their age difference, with Aron having a soft spot for his little sister. He spoiled her, more or less. It took a bit, but Aron finally tracked Harlow down (she had been freeloading off a bunch of mates just as carefree as she), and told her to come to Albany. Eventually, she agreed.


✩ Harlow is extremely intelligent inside the ring. She masks her lack of in-ring experience with a high IQ and can adapt to any situation even if it's not a situation she's completely comfortable in.
✩ Harlow isn't the type to showboat, or play to the crowd. She gets inside the ring, takes care of business, and that's pretty much that. There are no antics. There are no mindgames. She simply does what she was born to do that and is wrestle.
✩ Harlow will never duck anyone, or shy away from a challenge. She tackles every situation head on and to the best of her ability.
Last edited by a moderator: