⭐💫 Miss No Fucks Given 💫⭐
EAW ROSTER
Messages

132
Likes

308
Points

63
ELITE ANSWERS WRESTLING CONTRACT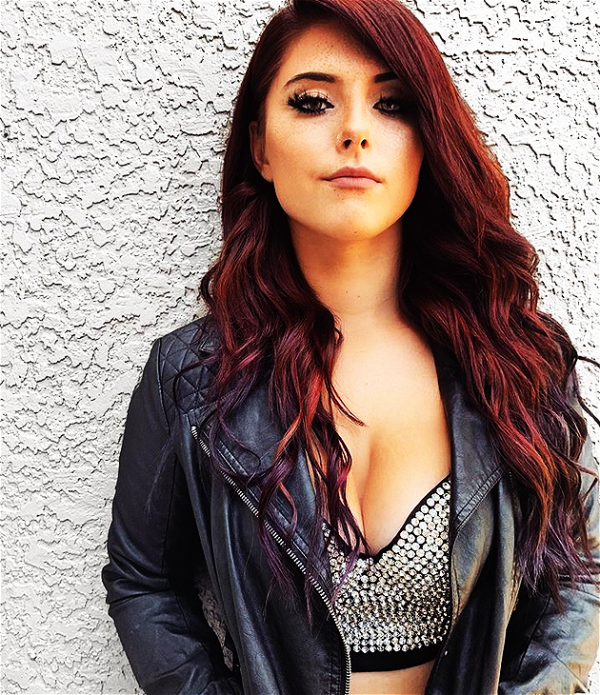 ​


✩ Wrestling Name: Harlow Reichert
✩ Picture Base: Brandi Lauren
✩ Current Nicknames:

"Miss Consistency and Resiliency"

, "Miss No Fucks Given", "The Ice Queen", "Thicclow" (thanks, Gavin)
✩ Height: 5'9''
✩ Weight: 137 lbs.
✩ Hometown: Christchurch, New Zealand


✩ Disposition/Alignment: Face
✩ Gimmick: 2019 was a full circle year for Harlow and 'Miss No Fucks Given' evolved herself into 'Miss Consistency and Resiliency.' It's well documented that when the gifted athlete began her career in Elite Answers Wrestling, she treated the business like a joke, and ultimately paid the price for that. Over time, and with the help of a committed team and her mentor, EAW Hall of Famer Xavier Williams, Harlow slowly began to find her footing in the company. Through trial and error, and with more setbacks than actual triumphs, the New Zealander constantly found herself tested and pushed. Her icy demeanor and quiet confidence comes across every time she speaks, and translates into the ring where Harlow is known as one of the best pure wrestlers in wrestling today. She works hard, gives her matches her all, and never allows anything to shake her resolve. Harlow has shown flashes of having a temper/emotions before because even the most stoic of ice queens have their moments, but for the most part, Harlow is cool, calm, and collected, and the fans love her for it.
✩✩

✩ UPDATED for Season 14: After suffering an injury at Pain for Pride at the hands of her mentor, Xavier, and being forced to face defeat on the biggest stage of them all, Harlow took off to Mexico, choosing to seclude herself and shut off contact with her team. What started off as a promising year for the redhead, turned sour after Under Siege. The loss of the PURE Championship coupled with being injured by Jacob Senn in a mask, and being sparingly booked never settled well with Harlow. When you add everything that happened at Pain for Pride on top of it, Miss No Fucks Given finds herself wondering whether or not she does give a fuck. Time away from EAW and being forced to start the season on the sidelines has Harlow questioning what exactly she wants. She's scrapped her goals, finds herself with little direction, and has a slightly bitter taste in her mouth. "Adversity is a tool used to build character," is something Harlow's brother has said and that Xavier has echoed, but old, reckless habits are resurfacing for Harlow as she lives it up down in Mexico, ignoring common sense and putting herself in jeopardy.


✩ Theme Music: "Eye of the Tiger" by New Found Glory

✩ Special Entrance:
(The lights inside the arena dim, and the fans fall quiet. A purple spotlight shines on the stage as 'Eye of the Tiger' by New Found Glory begins to play across the PA system. The fans start to cheer as Harlow Reichert steps onto the stage and into her own spotlight.)
Gina Romano: INTRO GOES HERE
(After Gina finishes her introduction, Harlow slowly removes her sunglasses, pushing them on top of her head, and looks out at the crowd. A smile spreads across her face and Harlow begins making her way down to the ring, slapping the hands of the fans along the way.)
COMMENTARY GOES HERE
(Harlow slips inside the ring, tosses her shades into the crowd, and immediately climbs the turnbuckles. She poses for the crowd, talking to them, and hyping herself up, before jumping down and removing her black leather jacket. She tosses the jacket outside the ring, takes her corner, and starts getting ready for the match with her game face on.)
MOTIVATIONS
✩ Harlow wants to build a legacy in EAW, and continue to be the person management can rely on to put on a great match with anyone. She wants to be known as one of the greatest ever.
✩ Harlow wants to make sure that the time and effort invested into her and her career gets returned. Since day one, Harlow has always had an incredible team around her and she wants to make sure their time has not been wasted.
✩ Harlow wants to compete in the big time matches, and continue to gain valuable experience. She is motivated by her peers and the success of others, and wanting to constantly test herself against the best of the best, so she can get even better at her craft.
✩ One personal motivation for Harlow as she comes into the new year is her older brother, Aron. Having seen his career come a brutal and horrific end, Harlow wants to make sure she makes him proud and do everything he never got a chance to do at the highest level.
✩

Good question.


✩ Wrestling Debut: 2018
✩ Favorite Match Types: Anything that is considered a 'pure' wrestling match. Harlow is a technical genius inside the ring and on the mat is where she thrives.
✩ Least Favorite Match Types: Hardcore/Extreme matches. That type of environment definitely doesn't suit Harlow, as she likes rules and structure.
✩ Favorite Weapon: Harlow would never use a weapon unless she was competing in a match that called for one. Even then, it would be a last resort type of thing.
✩ Tendency to Cheat: Never
CHAMPIONSHIPS:


✩ PURE Championship ( Date Won: 12.15.2019 -- Date Lost: 03.14.2020 -- Defenses: 5 )
OTHER IN-RING ACHIEVEMENTS:


✩ Competed in the first ever Women's Grand Rampage match (finished 6th)
✩ Competed in the 2019 Cash in the Vault Ladder Match at Pain for Pride XII
✩ Won the 'Special Opportunity 8-Person Elimination Match at Midsummer Massacre 2019
OTHER EAW ACHIEVEMENTS

:




✩

MVE Rising Star of the Week (

#155

,

#198

,

#203

)


✩

MVE Match of the Week (

#170

vs. Tyler Wolfe & Constance Blevins)


✩

MVE Promoer of the Week (

#189

,

#210

,

#213

)


✩

MVE Champion of the Week (

#208

,

#209

)


✩

MVE Most Valuable Elitist (

#208

,

#213

)


✩ Elitist of the Month

(

January 2020

)
COMMON MOVES


✩ Dropkick Variations (Standing, Running, Basement, Diving. Etc.)
✩ Running Cannonball Senton (to opponent in corner)
✩ Release Overhead Belly-to-Belly Suplex
✩ Double Foot Stomp (standing, or running to grounded opponent)
✩ Snap German Suplex (release, but could also bridge into pin)
✩ Rollup - Superkick Combo
✩ Corner Forearm Smash, immediately followed by a running Facebreaker onto knee.
✩ Fireman's Carry Neckbreaker
✩ Stiff Knife Edge Chops
✩ Apron Kick (Running along the apron, soccer-style kicks opponent who's standing on the ground)
✩ Double Underhook Suplex
✩ Saito Suplex
✩ Rapid Fire European Uppercuts to a corner trapped opponent
✩ Dragon Sleeper with Body Scissors
✩ Belly-to-Back Suplex
✩ Northern Lights Suplex (sometimes rolled through and combined with a Double Foot Stomp)
✩ Springboard Back Elbow
✩ Spinning Falcon Arrow
✩ Sleeper Suplex
✩ Leaping Lariat (running, or to a running opponent)
SIGNATURE MOVES


✩ '

Sense and Sensibility

' [moonsault powerslam]
✩ '

Harlow's Inferno

' [spinning torture rack slam]
✩ '

The Divine Comedy

' [butterfly piledriver followed by a cover (will use this to try and finish a match early)]
✩ '

As I Lay Dying

' [brainbuster to the knee]
✩ '

Atonement

' [backflip ddt]
✩ '

One Hundred Years of Solitude

'' [leaping triangle choke]
✩ '

Fate's End

' [the 'kiwi crusher'; adopted from her brother and having kept his name for it, this is harlow's premiere signature move]
FINISHING MOVES


✩ '

Les Misérables

' [flying knee that will catch the opponent right under the chin, followed by a 'Twister', which is a jiu-jitsu submission finisher]
✩ '

Great Expectations

' [bridging fujiwara armbar]
✩ '

Wuthering Heights

' [corkscrew shooting star press]
✩ UF. '

To Kill A Mockingbird

' [front flip destroyer from the apron to the floor; followed up by throwing dead weight into the ring and going for the cover]
SNZ 13 COMPETITIVE RECORD:
(
W
-
15
//
D
-
01
//
L
-
05
)
✩
Showdown
07.13.2019: with Thadd Blazevich vs. The Mechanical Animals (
L
)
✩
Midsummer Massacre
07.27.2019: 8-Person Elimination Special Opportunity Match (
W
)
✩
Showdown
08.24.2019: vs. Viktor Stone (
W
)
✩
Territorial Invasion
09.22.2019: vs. Mark Michaels for the
PURE Championship
(
L
)
✩
Showdown
10.05.2019: vs. Xander Payne (
W
)
✩
Showdown
10.26.2019: vs. Ryan Wilson (
W
)
✩
Reasonable Doubt
11.09.2019: vs. Ryan Wilson, Shane Gates, & Shaker Jones (
W
)
✩
Showdown
11.23.2019: vs. Mr. DEDEDE for the
Answers World Championship
(
**CANCELLED**
)
✩
Showdown
11.23.2019: vs. Kassidy Heart (
NC
)
✩
Road to Redemption
12.15.2019: vs. Jake Smith for the
PURE Championship
(
W
)
✩
Christmas in Dubai
12.25.2019: vs. Sapphire Estelle & Harper Lee (
L
)
✩
Showdown
01.11.2020: vs. Shane Gates for the
PURE Championship
(
W
)
✩
Showdown
01.18.2020: vs. Harper Lee for the
PURE Championship
(
W
)
✩
Showdown
01.25.2020: vs. Shaker Jones for the
PURE Championship
(
W
)
✩
King of Elite
02.08.2020: vs. Jake Smith for the
PURE Championship
(
W
)
✩

Showdown

02.22.2020: vs. Lucas Johnson for the PURE Championship (

W

)
✩
Showdown
02.29.2020: vs. Tobias Drakkenson (
W
)
✩
Under Siege
03.14.2020: vs. Lucas Johnson, Lance Blackfyre, Jake Smith, Shane Gates, & Santo Muerte in a
PURE Championship Gauntlet
(
L
)
✩

Showdown

04.11.2020: vs. Alexis Chambers (

W

)
✩

Showdown

05.16.2020: vs. Mr. DEDEDE (

W

)
✩

Odyssey

05.23.2020: with Xavier Williams vs. Jake Smith & Alexis Chambers (

W

)
✩

Pain for Pride

06.26.2020: vs. Xavier Williams (

L

)
SNZ 14 COMPETITIVE RECORD:

( W - 03 // D - 00 // L - 00 )
✩

Showdown

08.22.2020: vs. Cage (

W

)
✩

Showdown

08.29.2020: vs. Lucas Johnson (

W

)
✩

Showdown

09.05.2020: vs. TLA (

W

)
✩

Territorial Invasion

09.26-27.2020: with Consuela Rose Ava, Raven Roberts, Jake Smith, & SKA vs.

Team Dynasty

(Charlie Marr, Chris Elite, Xander Payne, MITSUBACHI, & Khamsin) &

Team Voltage

(Terry Chambers, Ahren Fournier, Myles, TLA, and Minerva) (

--

)

Harlow Angelique Reichert was born on July 24th, 1996 (23-years old) in Christchurch, New Zealand to David and Marilyn Reichert. David is a former professional rugby player and Marilyn once represented New Zealand in swimming at the summer Olympics. Truth be told, Harlow was one of those accidental babies that old people have late in life because they don't think they can get pregnant anymore. Her older brother, Aron (a professional wrestler in his own right and co-owner of Combat Church in Albany, New York), is nearly a decade older than her.
Harlow was one of those people who never really had to try in order to be good at something. She was just naturally gifted at whatever she tried. Unfortunately, Harlow never found passion in anything she tried. She always preferred books to sports, and writing to training, but pursuing writing was never really an option for Harlow. For as athletically gifted as she is, Harlow's mind wasn't wired to process letters and numbers. She was diagnosed with dyslexia when she was young, which made learning to read and write difficult. The struggle Harlow faced growing up learning to read is what her appreciate literature more than anything else in the world.
More often than not, Harlow would lose herself in books and blow off whatever activity she had scheduled for that day. She never bothered to get a job, or become a productive member of society, preferring to read, go out with friends, travel, and drain her trust fund. This led to a lot of problems between Harlow and her parents, and the day she turned 20, they gave her an ultimatum. David and Marilyn told Harlow she had a year to find something to do with her life, and if she didn't, they would no longer support her in any capacity. Harlow didn't take their threat seriously and continued to march to the beat of her own drum. The day of her 21st birthday, the Reicherts informed their daughter she had to get out of their home and they removed any and all financial ties Harlow had thanks to them.
A month or so went by, and it dawned on Aron that it had been awhile since he heard from his sister. He rang his parents and asked about her when he couldn't get in touch with her himself, and was actually furious with them when he found out what had happened. The siblings actually got along well, despite their age difference, with Aron having a soft spot for his little sister. He spoiled her, more or less. It took a bit, but Aron finally tracked Harlow down (she had been freeloading off a bunch of mates just as carefree as she), and told her to come to Albany. Harlow as hesitant at first, but then figured why the hell not, and she moved to the States.
Aron did his best to get Harlow involved in something, but nothing really interested her. Harlow's presence and her freeloading caused a bit of a strain between Aron and his wife, Normani (a professional wrestler as well and also a trainer at Combat Church), and Aron found himself between a rock and a hard place. Harlow is far from ignorant and knew what was happening, despite her brother not confiding in her, so Harlow went to Combat Church with them both one day just to get out of the house. Harlow was sitting in on a training class, making comments about how easy it looked, and Normani lost her temper and told Harlow that if looked so easy, then she should give it a try. Harlow shrugged and basically said okay, and took Normani down with relative ease having never been inside the ring before. Aron had watched the whole exchange and that's when he knew that professional wrestling was his sister's calling.
The rest is pretty much history.


✩ Harlow is extremely intelligent inside the ring. She has a high in-ring IQ, and can adapt to any situation. While she definitely prefers technical matches, and 'PURE rules', she has proven time and time again she can handle herself in multi-person matches and hardcore situations.
✩ Harlow will never duck anyone, or shy away from a challenge. She tackles every situation head on and to the best of her ability. It's honestly whatever for her.
✩ If there is one situation that Harlow might balk at, it would be a ladder match. Her brother's career came to an end in September 2019 due to a nasty fall off of a ladder that left him severely injured and changed forever. Seeing that happen in person did more psychological damage to Harlow than she is willing to admit.
She definitely doesn't care.
✩ Harlow never showboats during matches or stops to taunt or whatever. She is a professional inside that ring,

and takes every match seriously

. She's STILL very business-like

and treats the ring as a sacred place

.
✩ Harlow STILL doesn't play games. She's never been the type of make things personal, unless someone makes it personal with her.

At the end of the day, Harlow just wants to wrestle and win, and have the best matches on the card.
✩ It takes a lot for Harlow to snap. Even in the face of extreme adversity, she usually keeps her head together. She's extremely confident in her ability inside the ring, knowing she is capable of getting the last word there. Engaging in fist fights and whatnot

is extremely rare

might become more frequent if she feels like it would amuse her though

Last edited by a moderator: