✩ miss no fucks given
EAW ROSTER
Messages

74
Likes

176
Points

33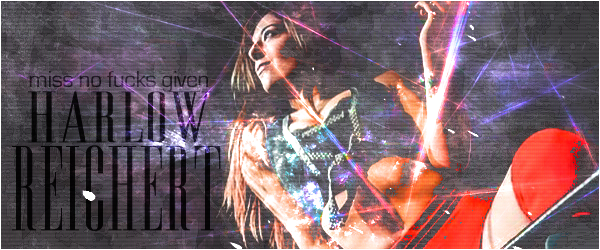 ✩ ● ✩ ● ✩ ● ✩ ● ✩
​
I've said it before, but it bears repeating. If you had told me a year ago that I would be so heavily involved in the sport of professional wrestling I would have thought you were crazy. This was never the life I envisioned for myself and I could never really understand anyone who did. This sport is ridiculous. People put their bodies and their lives on the line on a nightly basis and for what? To entertain people who don't necessarily care about them at the end of the day? A gold plated belt that doesn't necessarily validate your hard work and effort, because as we have seen time and time again, even this season, that ANYONE can win a championship? More often than not, the workhorses go overlooked because those in power figure they'll stick around because they're reliable. They don't really believe they have to placate them and give them their opportunities because they're rock steady regardless, and more often than not it's just accepted as the norm. It's an interesting business model and one that I never cared to understand until I found myself thrown into this. By chance I happened to show natural talent inside the ring, so much so that my brother, who's unselfishly devoted his adult life to this sport, took me under his wing and taught me the fundamentals. Trust me, I fought him every step of the way but when I saw just how angry people got because I was good at this without exerting all that much effort, I just went with it. I found it amusing that the world class athletes at Combat Church looked at Miss No Fucks Given with envy and scorn, and all because I was able to pick up the stuff they struggled with with relative ease. When it came time for me to tryout for Elite Answers Wrestling, I thought, well why not?
Here we are.
It hasn't been easy here for me, and I'll never shy away from the fact I didn't try my hardest when I first signed on. My struggles fall on me, and I own that. I just didn't care. I saw this as a joke. I had absolutely no respect for anyone who was considered a peer, and I took no one seriously inside the ring. I lost match after match despite being better than my opponents, and that's because I approached things with the wrong attitude and didn't bother to try and improve myself. It eventually clicked for me, as well all know, and slowly I started to see why the men and women who compete here love it so much. It takes a special kind of person to get in the ring and do what we do. The setbacks are hurtful, and everyone mentally suffers every time they lose a match. However, the true competitors keep going because at the end of the day they know that when they finally get the payoff they crave, it's going to be worth it. I thought I had blown my opportunity to compete at Pain for Pride a few weeks ago. I was so confident that I was going to defeat Andrea for the Specialists Championship contendership and head to Terminus to face Consuela for the belt. In my head and in my heart, I knew I was winning that championship too. I was going to grab my first title here in EAW and secure myself a spot at Pain for Pride, thus killing two proverbial birds with one stone. All of my eggs where in that basket, just like they were back at Grand Rampage. Both times I failed and came up short. I have no one to blame but myself for both of those loses because what happens inside the ring rests on my shoulders. Both times I didn't rise to the occasion like I needed too and both times I paid the price. It's been my goal this year to compete in a marquee match at Pain for Pride and prove to everyone who's believed in me that their support hasn't been in vain. Even when I didn't want their help, they remained loyal and for that, I'm grateful. My team is incredible. They have gotten me to this point and they have been there when I've fallen. They have instilled the belief in me that I deserve to be here and have pushed me to the point where I want this so bad I can taste it. It's been a hell of a journey. From last year all the way up until now. I have shown flashes of brilliance but I've also shown that I'm human. The whole world has gotten to see me start from the bottom, stay there, and find myself in the process. I'm still a work in progress but I've definitely grown, and the changes in me have been for the better. It doesn't matter to me if the fans and my peers have been invested in my journey. My team and I are the ones who are devoting the time and effort into it. I've blossomed so much under Xavier Williams, and I'll forever be grateful to my brother and Combat Church for laying the foundation and pushing me in this direction.
On Empire this week I'm getting one last chance to achieve one of my two goals for 2019 by earning a place in the Cash in the Vault ladder match. We all know how big that is, especially me considering I train daily with a former winner of that match. The winner almost always ends up becoming a world champion, and that's something that motivates me like no other. I will never be the woman who is defined by her failures here in EAW. A true competitor goes into every match knowing there's always a possibility of tasting defeat. While losing stings, it's not the end of the world, and having come up short on so many occasions already, I'm going to prepare extra hard for this opportunity. I don't want to wait another year to leave my mark on Pain for Pride, so I have to approach this match with a clear head and a ton of focus. Mistakes can't happen at this point because there's not going to be another chance after this. There are just two spots left for Cash in the Vault and both of them are going to be decided this week. Losing is never an option but it most certainly can't happen this week.
The person blocking me from Pain for Pride is a woman who's defeated me before. Amber Keys and I faced off on Battleground months ago when both of us were in much different places. Amber was just coming back after a decade in wrestling isolation and I gave no fucks about this business and what happened inside the ring. Needless to say, both of us have come a long way and aren't the same people that faced off back then. I don't know how Amber plans on approaching this match and I'm not sure if it even matters. She's got a lot going on in her life, but that doesn't make her any less dangerous so I'm cautious. She's a loose cannon, and has devoted her time in EAW to rebuilding the legacy that was taken from her forever ago. While she's wasted a lot of time catering to people who didn't deserve it, she's never stopped performing at the highest level whenever she wrestles. I can't say that I respect her at all. I'm not going to give someone my respect when I know they're going to do everything in their power to verbally shit on me this week. But I know that once the bell rings I'm going to be in for the toughest fight of my life. Amber isn't an opponent that I'm going to take lightly, and it would serve her well to do the same when it comes to me. Will she actually take me seriously? It will be her mistake if she doesn't. She is going to get absolutely everything Harlow Reichert has in her bag of tricks because I want this victory more than anything. I don't want to continue losing the big matches and get slapped with the stigma of not being able to get the job done when everything that matters is on the line. I've had contendership matches and a Specialists Championship match, and all of them have ended the same exact way. I'm tired of coming up short and watching everyone celebrate at my expense because I know that I'm just as good, if not better than they are. My natural ability far surpasses anything else I have seen and experienced here, and I know that it's just a matter of time before everything comes together for me and I have my break out moment. Securing this win on Empire and taking Amber out will be the biggest win of my career, and it would be deserved because I do the work and am willing to do even more in order to better myself and be the best possible wrestler I can be. I have more than earned the right to be in this position and to go to Pain for Pride to represent what's left of Empire on the biggest stage of them all. I grew to love this brand this year, and trust me, it sucks that it's not going to be around next season.
All of our futures are in limbo, and even though I'm not going to shy away from any competition I might face on Dynasty, Showdown, or Voltage, it just won't be the same. I know the self-entitlement and egos ran rampant on Empire, but at the end of the day, there's not a single woman on this brand who didn't truly give it her all inside the ring. Regardless of people's personal opinions on the athletes who made up our roster, the women of Empire always want to prove that they're the best, and that's why all of them always give it their full effort. Even me, eventually. It was the competitive atmosphere of Empire that forced me to open my eyes and take a good look at whether or not I wanted to survive in this company. The match against Raven Roberts and Rex McAllister back on Battleground where my ex and I were made a mockery of and I was injured is what slapped me with reality. Things like that were going to continue to happen unless I changed, and that's what I've been working towards these last six months or so. None of us know where we'll be next season, but one thing I know for certain, if I can beat Amber and then go on to capture the Cash in the Vault briefcase, I don't have to worry about my future. All champions will be on notice, and they'll all have to keep my name in the back of their minds. I could strike them at any time and take their championship, and the thought of having that much power is going to push me past my physical limits. It doesn't matter what Amber has in store for me come Empire. I'm going to find a way to counter it. I will find a way to avoid the spear, something I failed to do our last go around. I learn from every mistake I make, and that's my biggest advantage over every competitor here in EAW. My in-ring intelligence is my strong suit, and I humbly invite Amber to try and fake an injury this time around. I think she knows she isn't going to be able to get away with that kind of crap this time around. I would also be doing my own self a disservice if I didn't factor in Cleopatra and everything that is going on between the two of them. I know Amber is distracted, but I also know she is angry. She will be looking for someone to hurt while she waits for Cleopatra, and she probably thinks that person is going to be me. I welcome anger and aggression, and I'm more than ready to take whatever punishment Amber can possibly deal out. This is for MY spot at Pain for Pride, and you better believe that I'm willing to put myself through hell in order to obtain it. I want this match more than Amber does, I can tell you that right now. I want to be in front of that crowd at Mercedes-Benz Stadium, looking up at that briefcase hanging high above the ring. We aren't going to act like ladder matches and hardcore situations are my cup of tea, but I'll figure something out. I'll find a way to thrive in that environment just like I'll find a way to dispose of Amber this Thursday to take my place in the match. This opportunity got gifted to me.
I'm not going to waste it.