✩ miss no fucks given
EAW ROSTER
Messages

74
Likes

176
Points

33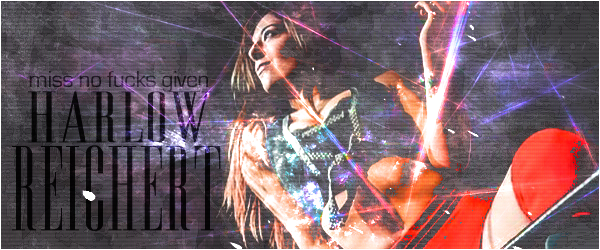 ✩ ● ✩ ● ✩ ● ✩ ● ✩
​

● November 19th, 2018

Harlow sat in the medical area, a grim expression on her face. She couldn't move her arm, and that scared her. Tapping out inside the ring is something she had hoped to never do, but hearing that cracking noise, experiencing the kind of pain, and being truly terrified that something was wrong with her had forced Harlow to save herself. She was far from proud. In fact, she wanted to just break down and cry, but she refused to let any tears fall from her hazel eyes. Harlow Reichert was not a crier, and she damn sure wasn't going to become one now. So there she sat on a cot, holding her arm, and she was very much alone. Johnny had tried to follow her in, apologizing profusely for not for not saving her. Harlow had said nothing in reply except to inform her tag team partner that she wanted to be left alone for the time being. In fact, Harlow had also told the on staff doctor, Dr. Henri Alexander, that she wanted to sit by herself for a few minutes before he checked her over.

What had happened out there?

Harlow had no answers. The match itself had gotten completely out of control.



"That was bad."



Harlow jerked her head up and looked towards the door frame. Xavier Williams was walking in, and Harlow couldn't keep the frown from crossing her face.

"I'm not in the mood to be criticized right now. Please leave me be."



Xav sat down in a steel chair that was set up across from the cot.

"You know I'm not. Where's Dr. Alexander? Why hasn't he checked on you yet?"





"He tried. I told him to leave."

Harlow's voice was controlled, even with the feelings she had at the moment. Despite the situation, she was pretty proud of herself for that.



"So you sent the doctor away when you're clearly injured and need medical attention right?"

Xavier shook his head.

"You have got to be the most stubborn, reckless person I have met in a long time. What the fuck, Harlow?!"

On the other side of the spectrum, Xavier's voice wasn't controlled. He sounded pretty annoyed right now.



"Why do you even care?"

Harlow shot back, her tone clipped.

"I'm not your responsibility, and at the end of the day you don't care about me."



Xavier didn't immediately reply. He looked at Harlow, and she looked away. She turned her attention to the opposite wall, refusing to look back at him.

"You know that I'm not going to baby you or stroke your ego, but why would I be here if I didn't somewhat care about your progress?"



Harlow refused to reply because deep down, she knew Xav was right. He was very blunt and to the point, and he wasn't going to waste his time with her if he didn't see something in her.



"You weren't ready. You're not ready for this at all."

Xavier sighed.

"The second you got inside the ring with big-time EAW competition you froze. Rex McAllister is the World Heavyweight Champion and Raven Roberts is the New Breed Champion. This was your moment to announce yourself to the world that you are the real fucking deal here in Elite Answers Wrestling and instead you proved that you don't belong on the main roster at all. I did advise you that entering the Grand Prix was a bad idea. Neither of you had enough experience to be inside that ring in a tag team atmosphere facing former and current champions and future Hall of Famers. However, I might have underestimated just how unprepared you are to be an Elitist. We put too much stock into that Specialists Championship match with Wolfe. We're just going to have to work harder."



Harlow jerked her head in his direction.

"What do you even mean?! I probably have a broken shoulder. I'm done!"



Xavier rolled his blue eyes.

"Oh cut the dramatics. You're far from fucking done, kid. This is a setback. It's not the end of the road. Injuries heal. You'll bounce back stronger, better, and more hungry than ever to get inside that ring and beat the living shit out of someone. Once you have some kind of spark for this business and it's taken away from you, something inside you changes. Trust me on that."




● The Night Before Grand Rampage ✩ Grand Club Lounge

Harlow had changed into a pair of black, skinny jeans with rips in the knees, a simple black and white off-the-shoulder top, and black sandals. No heels for Harlow. The Grand Club Lounge was on the 31st floor of the hotel, and it was exclusive. Obviously Harlow wasn't booked in the type of room that granted you access to the lounge, so she hesitated as she stepped off the elevator. Beside her, another elevator dinged and the doors opened.

"Why are you standing there looking lost?"

Xavier stepped up beside and Harlow cut him a look.

"Gee I wonder why?"



He rolled his eyes.

"It's fine."



They walked inside and Harlow found herself making a beeline right for two leather chairs with a small table between them that were sat in front of a large window that overlooked the Melbourne skyline.

"What kind of room are you staying in to have access to this?"

Harlow couldn't help but ask as her joined her and sank down into one of the chairs. She took the other.

"Just a Premiere Suite this time."

Harlow rolled her eyes.

"Imagine. JUST a Premiere Suite."



Xavier shrugged.

Harlow looked out the window and shook her head.

"I can't believe that my life could literally change tomorrow."





"Competing in a world championship match at Pain for Pride is a big deal,"

he agreed, his voice casual.

"There's nothing like that it and not everyone gets a chance to do it."



Harlow was quiet for a moment.

"Did you think back in November we would find ourselves here five months later?"



"I felt like it was a possibility but I don't want you to look too far ahead. Whatever happens tomorrow night is just the beginning because regardless of the result, you're on people's radar now. I'm still mad at you for that shitty performance on Empire, but that aside, you've been doing well."
"I still won that match."
"But it would have served you right to lose based on how you treated it. Getting out of the ring and running from competition. Not going straight for Jael, the actual champion in the match. Allowing two other women to work as a team against you. Everything about that performance was wrong and if I ever see you act like that again, I'm stiffing the fuck out of you and knocking some sense into you next time we're training."

Xavier had been livid at Harlow's actions during last week's Empire. It had almost felt like he was watching some other person compete in his student's place. He had already yelled at her for that. Still felt yelling at her. And here he was, continuing to be annoyed about it.

But as always with Harlow, she brushed off his anger.

"So you've told me and if you try and take a cheap shot at me, I'll beat the crap out of you."



They both knew she would try, and they enjoyed that understanding between them. Both enjoyed going hard in the ring and not holding anything back. Harlow was becoming better and better at pure striking. All of that was going to serve her well and into the future as long as she remained committed. Xavier decided to test her.

"So what happens when you don't win Grand Rampage?"
"I'm not sure where I should even start. This past week on Empire I participated in a match that was labeled a 'Grand Rampage Preview'. I was inside the ring with four other women and three of them are going to be opponents of mine come Saturday night. Now I did win that match on Empire, but trust me. That's the last thing I'm going to brag about. I'm not sure who that person was that stepped inside the ring last Thursday, but she certainly wasn't the Harlow Reichert I thought myself to be. It was an absolute mess and I have absolutely no excuse for my actual piss-poor performance. I should have stuck to my gameplan and went for the champion in that match but instead I did some things that were completely out of character. That wasn't the first time that's happened and I'm sure it won't be the last, but going forward I'm going to hold myself to a higher standard and make sure a performance like that never, ever gets repeated. That wasn't me in that ring on Thursday and I know that I'm better than that. I have no excuse. I'm light years ahead of the so-called competition that competed against me on Thursday. At the end of the day, I'm still new to this, and I'm not always going to be perfect. But I owe it to myself going forward, and to my team around me, to not spit in their faces and forget all the things they have taught me.
With that being said, I have a shot at redemption. Of course, a lot of this is going to come down to luck of the draw, but there's a high probability I could find myself trapped inside Grand Rampage with Layla Lockhart, Io Ishimori, and Miho Li once again. I welcome that because I most definitely want another crack at all three of them encase they were left with any questions about what I'm actually capable of. Io, I know I'm not your favorite person here. I called out your lack of originality and quite frankly crapped all over your so-called gimmick. I have absolutely no regrets about that whatsoever because the fact of the matter is, I'm still right about you. You don't have what it takes to make it any further than where you are right now because you're not doing anything to change people's perception of you. Twice now I have defeated you and yes, BOTH victories have definitely been 'fair and square.' I'm not a cheater like some people on the roster, and in a match like Grand Rampage anything goes anyway. Just like the first two times, I'm going to be better than you this time too. I will never stop holding my head high and the last thing I will ever do is stop putting myself over. When my words have the ability to bury themselves under someone else's skin, why would I ever stop speaking and singing the praises of myself, Miss No Fucks Given? You might be correct in the fact that neither of us have achieved anything here in EAW so far, but I can promise you this, Io. When all is said and done, my career is going to look much better than yours. I will have a list of titles and accomplishments to my name, while you will likely leave here with nothing, if you decide to even stick it out. I really haven't been here long, but already I have seen a lot of women come and go, because they simply don't have what it takes to wait around and see what could happen for them in the future. They take a few losses, and move on with their lives, because deep down they know it takes a special kind of person to actually be successful in the biggest company in the world. I don't think there's anything special about you, Io, and you certainly don't stand out in any capacity.
Neither do you, Miho.

You're definitely not going unchecked for the last minute crap you had to say last week. I don't talk trash to 'rattle you' and at the end of the day, I couldn't care less about what kind of effect the words I say have on you. The only thing I want out of all my opponents is for them to bring their best, even if that just so happens to pale in comparison with what I bring to the table. I just want a challenge, and I want to actually to work hard for my victories. I really haven't been tested since returning from my injury, and that's unfortunate because I'm someone who actually wants to regularly compete in these highstake matches. But patience is a virtue, and I know my time will come, and in the meantime, I'll continue to get some joy out of destroying people like you. 'Fight, Miho, Fight.' God, I hope you bring the fight with you this week to Grand Rampage because you honestly just annoy the fuck out of me. I love the fact you came into the match so focused last week and ready to go, and at the end of the day, when I clearly wasn't even at my best, you still couldn't get the job done. You couldn't do what you said you were going to do and that was beat me in the center of the ring. Come Grand Rampage you're not going to be able to beat me either. You'll never get me over that top rope and you if you have help from Io, bet that I'll make sure she's not successful either.
You made a huge mistake last week Miho when you decided to sit there and say that I have to be like someone else and act the same way they do. I have never been anything but myself here in EAW, and you should just accept that. I don't consider looking into a camera and telling someone the truth about themselves mean or hateful. I call it being honest and it would reflect badly on me if I didn't tell you exactly what you needed to hear. I won't ever sugarcoat anything for anyone, and I certainly won't kiss ass or give someone respect when they haven't earned it. If you want some kind of praise from me, then you step up and you rise to the occasion. You earn the right to hear compliments from me. If you can't handle the things I say about you and you think that's mean, you're in a rude for a awakening here in EAW. I'll be the first to say that my words, while raw and honest, lack venom compared to other Elitists. I handle my business in a much different way. But if you truly want to see ether and see people who are actually mean to their opponents, then go and watch promo videos from Serena Bennett, Sienna Jade, Malcolm Jones, Impact, The Visual Prophet, and our chairman, Mr. DEDEDE. Now those people, their words are mean. They are hateful. They have the ability to make you question yourself and whether or not you should even be alive. It doesn't get any easier the further you progress, and you're going to need thicker skin if you plan on surviving in this company. Don't you ever accuse me of not being authentic because I will remember that the next time you are standing across the ring from me. I am no one but Harlow Reichert, and I'm proud of that fact.
Some people might call me a 'self-important cow' but at the end of the day I'm just trying to be straight about certain things. Layla, you're the other person in that match that is also going to be in Grand Rampage and for that I just have to give you a round of applause. Your speech last week was funny to me because if you didn't care about what I had to say, then you wouldn't have wasted your time, as well as mine, addressing it and doing your best to defend yourself. Yes, we all know that you suck at this and perhaps me harping on that is just beating a dead horse with a stick, but what am I supposed to do, Layla? How else am I supposed to approach you? I can't give you the benefit of the doubt and think that things will magically change for you overnight. We all know that you're never going to get better and I can't lie about that and pretend that you will. I can't make an argument for you that this time is going to be better and that you'll have more experience, and maybe you can give all of us a good fight, because if I honestly said those things I wouldn't make it through the rest of this without laughing hysterically. You can do this for the love of the sport and for the three people who actually care about you, but there will come a day when you will finally have to look in the mirror and realize that this just isn't the career for you. If everyone tells you the same thing over and over again, then maybe that makes all of us right. Maybe in some weird way we are actually all looking out for you and want to see you walk away before you do actually end up injured permanently. We have already exhausted all of our miracles for one season, and you got to use two of them. You somehow magically healed from a broken neck and severed spine, or whatever the hell it was that Raven did to you on two different occasions. That horrible woman Veena Adams stole our third and final miracle when god himself blessed her with the ability to magically walk again at the Iconic Cup, so really Layla, you're on borrowed time. I'm not sure if anyone believes you'll actually show up the Grand Rampage, of if you'll even bother to speak about the match in a timely manner. You are honestly such a flake, and you should definitely cut your losses while you still can. The fact is, no one really roots for you Layla. Everyone holds their breath, scared to death, when you actually step inside the ring. Believe it or not, most people aren't bloodthirsty psychopaths who want to see you injured and taken out of action forever. They want to see you come to realization that you're much better off away from the ring. You can love something with your whole heart but that doesn't mean you should necessarily do it for a living. I love writing, but even I know what my limitations are. I have a disability that makes it hard for me to pursue what I love, and because of that I have had to follow an alternative career path. Everything happens for a reason, I guess, and at least the path I finally took led to me to find something I'm good at. I'm sure there's something out there for you as well, Layla. If you truly push yourself, you'll find it. Competing in Grand Rampage for a spot at Pain for Pride isn't what you're really meant to do. We all know that you'll never last inside the match and will likely get eliminated the second you step into the ring. That would honestly shock no one, and hopefully after that, no one ever has to see your face inside an EAW ring again.
I'm well aware that the three women I've just mentioned aren't the heavy hitters in the match. I know who the real competition is. I have my eyes on everyone, and I know they're watching me. That's what makes this so much fun for all of us. We're all waiting to see who speaks up, and what they have to say, and I can already tell you a lot of it is already rolling right off my back. I would love to sit here and really let loose on Serena, but she's just going to twist my words to fit her own narrative. She's already come at me with her versions of facts, and if she had watched that Battleground match and truly listened to what I had to say, absolutely none of it was really directed at Rex McAllister. He's not the one who made me tap inside the ring, that was Raven, and yes, I'm still annoyed that I gave up and didn't push myself a little harder in that match. I thought Raven had broken my arm, and I panicked, and I was crucified on commentary for absolutely no reason. I have every right to be angry and bitter about that, and I make absolutely no apologies for that. You can sit there and bitch about my attitude towards that match all you want, Serena, but you will never make look at from any other perspective but my own. You can boost yourself up and sing your own praises at my expenses, and how you respect Kendra for getting inside the ring with you back at The Palace, and that is perfectly fine. I'm not bothered because at the end of the day we all have the right to see things how we want. You can also talk shit about my journey and how you perceive me to be. Everyone has their own story, and I'm going to continue to tell mine exactly the way I want too. If you don't like it, don't watch it. It's really that simple. But just like you will always be you, I'm going to always be me. I know that I'm far from perfect and I have accepted the fact that I started off on entirely the wrong foot here. I did bring a terrible attitude into this place, but shockingly enough, people are capable of changing their personal outlook on certain things. I'm getting there and every day it's a new lesson. I'm willing to learn and I'm willing to grow, and if you want to spend the week spitting back everything I put out, then that's your prerogative. I think it's fair to say none of us are going to change our approach to this match. Whatever paths we decide to take this week is going to bring us all to the same place anyway. All of us are headed to Grand Rampage, and we have one thing in mind. It bears repeating, because of just how lucrative the prize we are all competing for is. It gets no bigger than competing for the World Championship at Pain for Pride, and that match is going to be given to the winner of Grand Rampage. We all want it, but the harsh reality is only one of us is going to get it."