♡ 𝙎𝙄𝙈𝙋𝙇𝙔 𝙏𝙃𝘼𝙏 𝙂𝙄𝙍𝙇 ♡
EAW ROSTER
Messages

28
Likes

44
Points

13
Location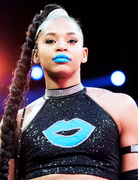 - - - - - - - - - - - - - - - - - -
BASIC INFORMATION:
NAME:
Aniyah Mitchell
PICTURE BASE:
Bianca Belair
CURRENT NICKNAMES:
Hood Princess, Melanin Monroe, The HBIC, Your Next Champion, Winner
HEIGHT:
5'7"
WEIGHT:
155 lbs
HOMETOWN:
Brooklyn, New York
CHARACTER INFORMATION:
DISPOSITION/ALIGNMENT:
Monster Powerhouse Heel
GIMMICK: Straight from Brooklyn, Aniyah comes equipped with one mindset only and that's to chase a bag. Her vain unapologetic attitude, athletic strong build, and sharp tongue will for sure take her places in EAW. She's looking to make a statement and has no problem doing anything it takes to get on top, even if it means ending a career permanently. The proclaimed Head Bitch in Charge is out on the run for gold and so help anyone who gets in her way of that.
MOTIVATIONS FOR COMPETING: Clout and Money.
TENDENCY TO CHEAT: Always!
SPECIAL TAUNTS:
A bridging back-flip followed by 3 push ups, Ass Poppin' and Twerking, Flexing her large arms, Taking a bow...
ENTRANCE MUSIC:
CLICK!
(

NICKI MINAJ - LLC

)
ENTRANCE DESCRIPTION:
Aniyah storms out with her her hips swaying from side to side to the tempo of the music. She turns around sticking out her ass and flexing her guns, pointing to the back of her top which reads
"

#THATBITCH

"
Her ass begins to shake before whipping her braid around and blowing a vain kiss to the audience. A loud laugh escapes her lips as she forms a crown on top of her head solidifying her status. She saunters down the ramp while interacting with the audience members and waving them away as if their peasants...
"BYEEEEEEEEE!"
- - - - - - - - - - - - - - - - - -
IN-RING INFORMATION:
'COMMON MOVES'


Gorilla Press Slam
Suplex Toss
Leaping Head Butt
Spit in face followed by Pedigree
Reverse Frankensteiner
Running Powerslam
Headscissors Takedown
Eye Rake followed by a hard slap
Release Gourdbuster
Biel Toss
Butterfly Suplex
Twerkin' Moonsault
Reverse Cutter
FINISHING MOVES:


'BLACK GIRL MAGIC'

Tiger Bomb Bridge Pin (CLICK!)


'BREAK A BITCH'

Corkscrew Senton Bomb (CLICK!)
SIGNATURE MOVES:


'GOOD NIGHT POOH'

The F-5 (CLICK!)


'BARBIE DREAMS'

Vertical Drop Double Knee Backbreaker (CLICK!)
MATCH HISTORY:



W:

3

L:

1

D:

0
(

VOLTAGE

):
Aniyah Mitchell vs. Shawn Sturgis vs. Sarah Price vs. Damian Butler Jr - WIN
(

VOLTAGE

): Aniyah Mitchell vs. Damian Butler Jr - WIN
(

VOLTAGE

): Aniyah Mitchell vs. Serena Riot - WIN
(

TERRITORIAL INVASION

): Divide & Conquer Match - LOSS (FINAL 4)
- - - - - - - - - - - - - - - - - -
Last edited: