The Notorious
EAW ROSTER
New Breed Champion
Messages

172
Likes

499
Points

63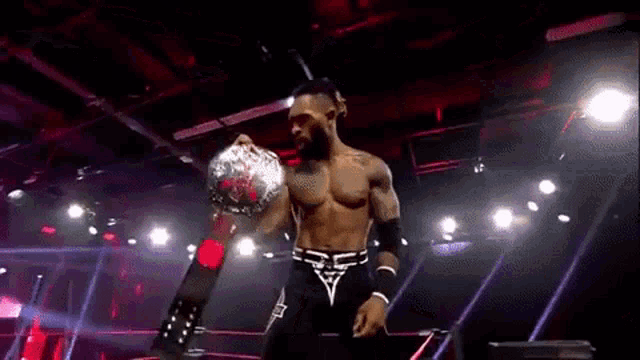 ELITE ANSWERS WRESTLING CONTRACT
BASIC INFORMATION
Wrestling Name: Andre Walker
Picture Base: Chris Bey
Current Nicknames: "The Notorious", 'Dre', "Friday Night's Faith"
Height: 5'10
Weight: 185lbs
Hometown: Brooklyn, N.Y (U.S.).
Birth Date: November 17, 1996.
➤ CHARACTER INFORMATION
Disposition/Alignment: Face
➤ GIMMICK, CHARACTER DETAILS / DEVELOPMENT
Walker maintains the mannerisms of a face, though he's far more confident than everyone else, and firmly believes in his ability to ether them at his discretion. He may be brash, slightly arrogant, and overly-confident at times, though he doesn't verge completely into his dark side. He will typically give back the treatment that is given to him, and when challenged, he isn't afraid to let that confidence show.
➤ Update:
After numerous showings on Dynasty, Walker has begun to adapt heelish tendencies, not cheating, but expressing himself through his materialism. Often showcasing his wealth, though never allowing it to become his primary motivation.
➤ Update:

Walker, now the New Breed Champion, has begun to see the ugliness in the success, and the beauty in the struggle. A more humble, respectful, purely honest competitor. Walker now embarks on a mission to grant every competitor their shot at his title, and simple elevate its prestige.
➤ SEASON 14 CHARACTER DETAILS
Walker has transformed himself into an ideological purveyor of what he believes to be the truth. A ruthless heel, though maintaining not a mindset of disgust towards his peers, but a level of shame and embarrassment. Looking to transcend Dynasty in season fourteen, Walker believes himself to be the brand's unwavering mainstay. A wise, collected, king of this brand, who'll not be bound by any set of universally accepted ethics in order to affirm and solidify himself as everything he believes himself to be. Looking to ascend to a higher plane of thought, wisdom, and success than any before him. Rationlizing this plane of thought at any cost and by any means necessary.
➤ Update

: SEE GIMMICK BIO.
➤ RINGSIDE INFORMATION
Theme Music: 'GATTI' by JACKBOYS, Pop Smoke.
Special Entrance: During weekly shows, Walker may sometimes showcase his signature "Billionaire Walk", flailing his arms, strutting arrogantly. In the case of a championship, or FPV match-up, Walker will most likely use a more standard entrance. Though, during any entrance, he will always lip-sync the lyrics to his theme, 'GATTI'.
➤ ENTRANCE NOTE:

Walker now enters wearing a signature mask, dawning the 'Killmonger' mask during his entrance, now also wearing a leather jacket lined with fur.
(SEE HERE)
➤ MOTIVATIONS
What are your character's motivations for competing?
Walker has traveled the world, perfecting his craft and mastering his skillset, and now, has set his eye's on EAW. Andre's extensive resume only boosts his confidence, though his past accomplishments only make him hungrier for EAW gold. His primary goal is to climb EAW's food chain, and eventually, sit atop the throne of EAW.
See updated character motivations.
Tendency To Cheat: Choose from these options: Not often, but not against it. Every so often will use a low blow, or illegal move to set up a finish. Utilizing small factors like eye pokes and cheapo shots often.
➤ IN-RING INFORMATION
Favorite Match Types [Optional]: Walker specializes in one on one singles matches with no stipulation, though he loves no disqualification matches, or even no holds barred match ups.
Favorite Weapon: Steel Chair, as he has multiple usages for it.
In-Ring Achievements [Optional]: Championship wins all across the globe, including locations such as Mexico, Japan, South America, and more.
Attire: RING-ATTIRE
Attire: RING-ATTIRE
➤ MOVESET
BASIC-MOVES
Common Moves: Minimum ten (10)
1. Spin kick to the abdomen
2. Sharp Forearms To The Face
3. Springboard Moonsault
4. Pendulum Backbreaker
5. Tope Con Hilo
6. Snap kick to the spine/back
7. Bicycle Kick
8. Top Rope Diving Meteora
9. Wheelbarrow Facebuster
10. Ushigoroshi (Fireman's Carry Backbreaker)
11: Cross-Legged Brainbuster
12: Gutwrench Powerbomb
13: Single Underhook DDT
14: Axe Kick Followed By Discus Elbow
15: Bicycle Knee Strike (To both back and front)
16: Dragon Suplex
16: Pumphandle Backbreaker
17: Pele Kick
18. Snapmare [DEMO]
19. Slingshot DDT [DEMO]
20: Moonsault-Reverse DDT [DEMO]
21: ''Redlight' (Both on floor and in ring) [Redlight]
22: Superkick to the back of the head
SIGNATURE-MOVES
Signature Moves: Minimum of two (2), maximum of five (5)
1. 'Grimsever' Bicycle Knee Strike To Downed Opponent In Turnbuckles
[Grimsever]
2. 'Show Out'
[Show Out]
3. 'Thunderbolt Tempo' 1916 (Brainbuster) [Thunderbolt Tempo]
NOTE: 'Grimsever' and 'Thunderbolt Tempo' to be used more often.
FINISHING MOVES
Finishing Moves: Maximum three (3) and one (1) optional ultra-finisher (UF)
1. 'The Dawnbreaker' Canadian Destroyer [The Dawnbreaker]
2. 'Dre Walker 3000' Arm trapped belly to back slam (Styles Clash)
UF. 'Christ's Consciousness' ('Dre Walker 3000' from the second/top rope.)
Last edited: