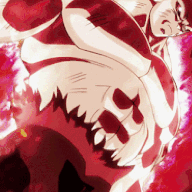 Messages

5
Likes

19
Points

3
BASIC INFORMATION
Wrestling Name:
APOCALYPSE
.
Picture Base: Braun Strowman.
Current Nicknames: "Sanpaku gan", "The Monstrous Man".
Height: 6', 11''.
Weight: 375.
Neck: 24".
Chest: 66".
Biceps: 25".
Fist: 15" .
Age: 34 (born June 18th, 1984).
Hometown: Louisiana State Penitentiary, Louisiana.
CHARACTER INFORMATION
Disposition/Alignment: No moral compass.
Gimmick: Institutionalized convicted felon who was put away for 10 years after his involvement in a murder conspiracy case at only 15 years old. He spent additional time in the Louisiana State Pen after being charged with kidnapping, armed robbery and aggravated assault w/ intent to kill. In November of last year another incident took place in Tuscaloosa, Alabama which resulted in him being slapped with an attempted murder charge, facing up to 20 years in prison. He got off on a technicality due to the uncorroborated reports from multiple witnesses. After the charges against him were dropped, he was given a chance at another EAW contract; and is making the effort to reform his behavior to prove to the world, and most importantly, his parole officer, that he is able to remain an autonomous member of society.
RINGSIDE INFORMATION
Theme Music: 'Sound of Silence' by Necroblaspheme.
MOTIVATIONS
Follow the guidance of
@Soothsayer Hamasa
and channeling his rage to garner success in the ring and avoid trouble outside of it.
Tendency to Cheat: Rarely.
IN-RING INFORMATION
Wrestling Debut [Optional]: Pain for Pride X, decimating HRDO and sending him through the ring.
Favorite Match Types: No Holds Barred.
Least Favorite Match Types: Normal rules.
Favorite Weapon: Anything that can be picked up and thrown.
Common Moves:
1. Short-arm clothesline.
2. Running body press.
3. Running double axe handle.
4. Big Swing.
5. Uranage to the knee.
6. Gut buster.
7. Running front dropkick.
8. Sprinting high knee to the cornered opponent *can be hit multiple times*.
9. Big Boot *sometimes running, sometimes bicycle*.
10. Ballistic shoulder thrusts to the corner.
11. Deadlift Choke Bomb.
12. Military Press Powerslam.
13. Belly to Belly Suplex.
14. Hip toss.
Signature Moves:
1. Standing two handed choke.
2. Spear - (on an apron based opponent to the outside).
3. Helix Nebula - F-5.
4. One-handed chokeslam.
5. Powerslam.
6. Meteor Barrage - (mauling an opponent with his bare fists; can be used to end a match via disqualification after refusing to adhere to the referee's count of five).
7. Black Hole Slam.
Finishing Moves:
1.
GRB (Gamma Ray Burst)
- Pounce (
is meant to send opponent flying out of the ring on impact
).
2.
Eta Carinae
- Pop-up Powerbomb (
sends opponent through the ring, or does some sort of damage to the canvas
).
UF:
Multiverse Death Bomb
- Powerbomb off the top rope (
resulting in the collapse of the ring
).
NOTES
This character rarely talks, as he is not well spoken and does not have the patience for it. He also holds 'third world' views and speaks without a filter -- which could potentially cause him to incriminate himself if left unchecked. His mouthpiece and manager is
@Soothsayer Hamasa
who does most of the talking for him.