New Breed Champion BITCH ‼️🐐
EAW ROSTER
New Breed Champion
Messages

180
Likes

172
Points

43
​
"Bet you 2 bucks I'll out smoke you bro."
E
L
I
T
E
A
N
S
W
E
R
S
W
R
E
S
T
L
I
N
G
C
O
N
T
R
A
C
T
BASIC INFORMATION
​

Wrestling Name: Bronson Daniels
Picture Base: Kofi Kingston (Preferably Blonde Dreads)
Current Nicknames: New Breed Champion BITCH, The Euphoric Machine, The Skinny Dipper Lord of Pot Smoking
Height: 6', 0''
Weight: 210 lbs
Hometown: Cocoa, Florida
​

Disposition/Alignment:
Pure Babyface | Face | Anti-Hero | Tweener | Cowardly Heel | Ruthless Heel | Monster Heel
Gimmick: Bronson Daniels has found new ways, he realized that being selfish isn't good with the ovation at winning the New Breed Championship. Bronson from now on isn't gonna talk that much shit, and be more of a good guy. He's also had a 5-year long career in the MMA scene before starting to wrestle in 2015, and has been doing it consistently for 5 years.
​

Theme Music: 'Nightcrawler' by Travis Scott ft. Swae Lee & Chief Keef​
Special Entrance: Bronson smokes everything there is to smoke during his entrance. When he first comes out on the stage, he'll start
Brosal Shuffling
. He will always high five the fans on the way up the ramp, and sometimes even pass his blunt to them. When the second hook hits, he jumps in the ring
Brosal Shuffles
in the ring until his opponent's music hits.
​

What are your character's motivations for competing?
Personal Gain: Bronson is a crack enthusiast, any money he can pocket out of EAW goes right to that business but also to luxury clothing so he can flex it in his crappy neighborhood.
Titles: Maybe some titles are also cool bro why the hell not. Shiny gold would always benefit Bronson and would always put a smile on his face.
Fame: Gotta get them fans, bro. Beat people's asses and make the girls go crazy. That's the life!​
Tendency to Cheat:
Always | Often | Sometimes | Rarely | Never | If Needed
​
Wrestling Debut: 4/20/2015
Favorite Match Types: Inferno - so he can light up his blunt, pretty smart if you ask me
Least Favorite Match Types: Grand Rampage/Battle Royals - they give him flashbacks to Ahren Fournier eliminating him
Favorite Weapon:
Blunt - intention to burn people with it, Terminator style y'know?
Black Baseball Bat - Bronson considers it a big joint and will use it to his advantage
Flame Thrower - gotta light up that weed somehow... and maybe his opponents 😬
In-Ring Achievements:
1x EAW New Breed Champion for 1+ Days (Pain For Pride XIII 6/28/2020-???)
'Most Blunts Smoked In 10 Minutes' - Guinness World Records
Rising Star of the Week (MVE #221)
Eliminated Osamu Archichida in the Grand Rampage match
Common Moves:
1. Suplex Variations
​
2. Fujiwara Armbar
3. Double Underhook Piledriver
4. Arm-Trapped Elbow Strikes
5. Deadlift Powerbomb & Bicycle Knee Combo
6. Roundhouse Kick
7. Running Senton
8. Missile Dropkick
9. Running Jumping Knee
10. Drop Toe Hold
11. Diving Rolling Senton
12. Fisherman Buster, sometimes avalanche
13. Triangle Choke
14.
Sliding D
15. 'Joint Manipulation' Ankle Lock
16. Boom Drop
17. Soccer Kick
18. Leaping Double Foot Stomp
19. Monkey Flip
20. Springboard Crossbody, Axe Hand, Dropkick
​
NOTES
Bronson would like to note that he will Futsal (Brosal) Shuffle every opportunity he gets, bro.
HAVE YOU HEARD OF BRONSON'S FRIEND, BRO?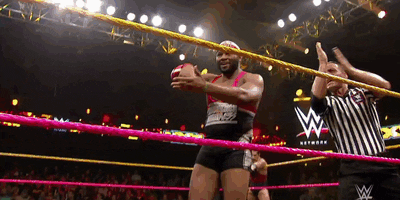 NPC Name: Julio Nixon
Picture Base: Angelo Dawkins
Current Nickname: The Plug
Height: 6', 6''
Weight: 268 lbs
Hometown: Cocoa, Florida
​

Disposition/Alignment:
Pure Babyface | Face | Anti-Hero | Tweener | Cowardly Heel | Ruthless Heel | Monster Heel
Gimmick: Julio Nixon is someone Bronson's known for a long time but never were really friends but they've recently been talking and spending a lot of time together. Julio was, and currently still is Bronson's Plug hence the nickname. Julio saw his rise in EAW and now travels with him and sometimes even accompanies him in his matches.​
Last edited: