✨⭐The Leading Lady✨⭐
EAW ROSTER
Universal Women's Champion
Messages

428
Likes

817
Points

93
Location
✨⭐✨⭐✨⭐✨⭐✨⭐✨⭐✨
​
✰
Wrestling Name:
Darcy May Morgan
(Sometimes shortened to DMM)
✰
Picture Base:
Tenille Dashwood
(Brunette Hair)
✰
Date of Birth:
21st December 1994
(26 years old)
✰
Current Nicknames: "The Leading Lady"
, "Dropkick Darling" (Thanks to Jake Mercer), Miss Cash in the Vault, Super Darcy
✰
Height:
5ft 4in
✰
Weight:
130lbs
✰
Hometown:
London, England (Billed from Kent, United Kingdom)
​
✰
Disposition/Alignment:
Tweener (2021 - Present)
✰
Tendency to Cheat:
If Needed
✰
Gimmick:
After a rough start to Season 14.. Darcy ended the year by reigning her briefcase against rival, Drake King and finally got her big win that she had wanted. The start of the season saw setback after setback for the Leading Lady, meaning that she was indeed humbled and her vulnerable side was fully shown to the world, a side not often seen by the EAW universe. Going from having almost everything at Pain for Pride to almost losing everything has changed Darcy for the better. She goes into 2021 looking to win the Universal Women's Championship with the same sassy, dramatic and sarcastic attitude but this time.. She does it with one thing she has failed to show over the course of her career… heart.
(UPDATED FOR 2021)
​
✰
Theme Music:
Iggy Azalea - Spotlight Saviour
(8th August 2019 - Present)
✰
Wrestling Attire:
(
x
) or (
x
) or (
x
)
*Always wearing sunglasses*
✰
Segment Attire:
(
x
) or (
x
) or (
x
)
*Always wearing sunglasses or glasses here*
​
Elite Answers Wrestling
EAW Debut:
4th June 2019
✰
EAW Universal Women's Champion
(Current)

✰
EAW Specialists Champion
✰
2019 Specialists Chamber Winner
✰
2020 Cash in the Vault Winner
Most-Valuable-Elitist
✰
Beef of the Week x12
✰
Promoer of the Week x4
✰
Match of the Week x4
✰
Most Valuable Elitist x3
✰
Champion of the Week x1
Other Achievements
✰
First EAW Specialists Champion to retain the championship in the Specialists Chamber
✰
Undefeated in Tag Team Action as Valkyrie (6-0)
✰
Came 3rd in the Divide and Conquer Match at Territorial Invasion 2019
✰
Entered the Women's No Way Out Match at Fighting Spirit 2020.
✰
Second Female to win the Cash in the Vault Ladder Match at Pain for Pride.
✰
Main Evented Territorial Invasion 2020 with War Games.
✰
Retained the Cash in the Vault briefcase at Road to Redemption 2020.
​
✰
Wrestling Debut:
2018 (UK Independent Scene)
✰
Favourite Match Types:
No DQ Matches
✰
Least Favourite Match Types:
Anything involving a branding iron
✰
Favourite Weapon:
Pink Razor Whip
(Used in the Specialists Scramble & NWO match at Fighting Spirit)
✰
Common Moves
01. Knee variations
02. Tilt-a-whirl headscissors takedown
03. Handspring Elbow
04. Face buster
05. Bulldog Variations
06. Tilt-A-Whirl Bodyscissors Dragon Sleeper
07. Hair pull takedown
08. Tornado DDT
09. Wheelbarrow arm drag
10. Backflip Head Scissors Takedown (
x
)
11. Suicide Spear (
x
)
12. Knee Stomp (
x
)
13. Sitout Spinebuster - (
x
)
14. Handstand Hurricanrana - (
x
)
15. Standing Moonsault Knee Drop (Can also be done from the top rope like previously done at Road to Redemption 2020) - (
x
)
16. Step Up Knee Strike (
x
) or (
x
)
17. Diving Double Knees (
x
)
✰
Signature Moves
01.
'TTYN'
(Talk to you never) - Left hand knockout punch (
x
)
02.
Face Ache
- Bicycle Kick (
x
)
03.
The Darling Drop
- Rope Assisted Knee Strike (
x
)
04.
Kisses
- Modified Knee Strike (
x
) (Often used to set up the Don't Diss Darcy when opponent is dropped onto their knees.)
✰
Finishing Moves
01.
The Curtain Call
- Inverted Go to Sleep (
x
) (Primary Finisher)
02.
DDD
(Dont Diss Darcy) - Shining Wizard to the back of opponent's head (
x
) (Quick Match Finisher)
03.
The Encore
- Dragon Sleeper Combos (
x
) or (
x
) (Submission Finisher)
04.
The Grand Finale
- Top Rope Shooting Star Press (
x
) (Used at big events)
✰
Special Move
01.
Leading Left
- Power of the Punch with Golden Knuckles (
x
)
✰
The Leading Lady character is all about confidence. Darcy at all times wants to be the hero or the centre of attention. It's very theatrical and dramatic and always aims for a good story. Darcy has stated multiple times that changing to the Leading Lady, a person that no longer took others' opinions on board and focused about herself, was a decision that saved her life. After years of not doing it, wrestling finally made Darcy believe in herself. She was tired of dampening her sparkle so that others could shine brighter than her, something that she recognized when getting into wrestling.
✰
A lot of her taunts refer to showing off or being really into her looks. She will bow in the ring and pose as much as possible when all eyes on her and will confidently show off whatever she is wearing. She always wants to take the lead and be the star of the show because she believes she deserves that.
✰
Although treated like a diva in her career, Darcy is highly trained and skilled in the ring. After her breakdown with her former boyfriend who trained her, her parents' money went towards wrestling practice and training around the UK. Her style of wrestling can be explained as "british strong style" like Pete Dunne and Tyler Bate. Most of her moves involve hard strikes (knees, punches and kicks)
✰
Darcy has had previous issues with shoulder injuries in her wrestling career. This was seen in her match against Dr Bethany Blue at Grand Rampage when Darcy popped her shoulder back into place. However, do not believe that this puts her at a disadvantage. She has been given the nickname Super Darcy for a reason.
✰
After competing against
@Drake King
for the CITV briefcase at Road to Redemption 2020, Darcy has Drake's initials "DK" burnt onto her left shoulder after Drake used a branding iron on her during the match.
✰
Darcy previously cheated a lot during matches, but after getting loss after loss at the beginning of Season 14, Darcy looks to have more legitimate wins under her belt without cheating. However that doesn't mean she won't do it if it is needed in desperate situations.
✰
Darcy is always followed around by a team, whether that is a personal assistant or security guards. One of the main supporting characters in her scenes is Wallace, who is her head bodyguard. He is with her at all times backstage but not at ringside.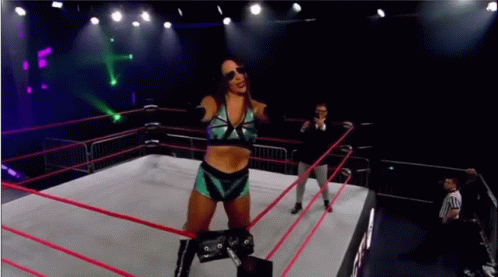 ​
Last edited: