The Princess of EAW
EAW ROSTER
Messages

328
Likes

204
Points

43
ELITE ANSWERS WRESTLING CONTRACT
​
BASIC INFORMATION
Wrestling Name
: Layla Lockhart
Picture Base:
Xia Brookside (blue/pink hair)
Current Nicknames:
Layla The Lionheart, The White Lion, The Warrior Princess
Height:
5', 2''
Weight
: 113lbs
Hometown:
Salem, Oregon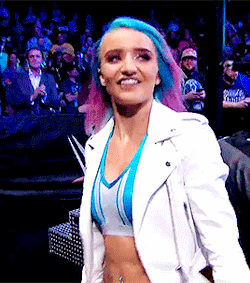 CHARACTER INFORMATION
Disposition/Alignment:
Pure Babyface
Gimmick:
A perpetual scrappy underdog who got into wrestling after a childhood bounced between various foster homes and being raised mostly by a neglectful older sister.
Layla has taken a brief absence from EAW due to feeling that she was no longer worthy of being there after her constant failures and being frequently taken out. Spending some time on some independent shows and getting a chance to truly think and reflect on her life has allowed Layla to let go of her doubts and fears and return with a new fire burning inside her, more confident and driven than before and no longer afraid to fail in pursuit of her dreams, knowing that it's better to chase them and fail than to give up.
Personality:
Layla is well known to be bubbly and friendly to anyone she comes across until they give her a reason not to be. Formerly very shy and self-doubting, Layla's time among The Pride and her return has given her much more confidence in herself and caused the Warrior Princess to be much more easy going this time around compared to when she left, even becoming something of a good-natured tease and a flirt after Constance Blevins helped her to get over her issues with self-esteem and love herself as much as she loves her friends.
RINGSIDE INFORMATION
Theme Music:
'Boom Clap' by Charli XCX
Special Entrance:
Layla comes out from the curtain, beaming out at the fans and waving to the cheering crowd as she makes her way down the ramp, hugging and high fiving several of her fans along the way until she makes it to the ringside area.
With a wide, excited smile Layla jogs around the ring and jumps onto the commentator's table, holding up her fist, the cheering crowd following along with her. Layla smiles out at the crowd, obviously touched by their love and blows a kiss before taking off her baseball cap and throwing it like a frisbee into the crowd before jumping off the table and sliding into the ring.
In-Ring Attire:
Option 1 (main)
Option 2
Segment Attire
:
Layla usually wears casual clothes backstage or away from ring, jeans and a tank top with a Disney or Nintendo character on them are common, as well as usually a baseball cap. Leather jackets usually in white or purple are also common.
Entrance Attire:
Layla wears a white leather jacket over her ring gear as she enters (see In-Ring Attire 1) and a black baseball cap with The Pride's logo on it which she throws to the crowd during her entrance. When accompanying someone as a valet/manager she usually wears a Pride t-shirt over her ring gear.
MOTIVATIONS
What are your character's motivations for competing?
- Gold:
Layla, like most, strives to win championship gold and be a worthy champion. More important to her is that she wins it on her own terms, rather than through underhanded means.
- Pride:
Layla spent time away from EAW feeling that she had failed her goal and disappointed her fans. After her brief sabbatical the Warrior Princess is back with a renewed sense of self-worth and feels ready to face the world again, no matter what it throws her way.
- Wrestling:
Above all else, Layla loves to wrestle; wrestling has been her escape from bad times in her life both as something to watch and now as an active competitor.
Tendency to Cheat:
Never
IN-RING INFORMATION
Wrestling Debut [Optional]:
2018
Favorite Match Types [Optional]:
Falls Count Anywhere, Tag Team
Least Favorite Match Type:
Lumberjack
Favorite Weapon:
Steel Chair
In-Ring Achievements:
Common Moves:
1. Running Enziguri
2. Float Over DDT
3. Frankensteiner
4. Double Underhook Suplex
5. Flying Heel Kick
6. Bridging Triangle Choke
7. Bridging Fujiwara Armbar
8. Matrix Evasion
9. La Magistral roll up
10. Double Foot Stomp
11. Standing 450 Splash
12. Snap Suplex
13. Rebound Lariat
14. Shotgun Dropkick into the turnbuckles
15. Swinging Fisherman's Neckbreaker
16. Double Knee Backbreaker
17. Standing Spanish Fly
18. Diving Axe Handle
19. Baseball Slide evasion
20. Handspring Moonsault
21. Bronco Buster
Signature Moves:
1. 'Falling With Style'
(Springboard Forearm Smash)
2. 'Bottle Rocket'
(Spear)
3. 'Dreamfinder' (
Ripcord
or
Running
Bicycle Knee Strike)
4. 'Reality Check'
(Cartwheel Knee Drop)
5. Superhero Kick'
(Superkick)
Finishing Moves:
1. 'Right Back At Ya!'
(Handspring Cutter)
2. 'Clipped Wing Angel'
(Leg Feed Rings of Saturn)
3. 'Second Star To The Right'
(Corkscrew Shooting Star Press)
UF. 'Two Feet Under''
(Diving Double Foot Stomp to the back of an opponent's head)
NOTES
Has four cats, named Ariel, Yukari, Cloud and Tanith. Occasionally will bring a cat with her to the shows and be seen with them backstage.
Does a lot of charity work on behalf of both EAW and on her own time; is an official ambassador for GLAAD and the RSPCA. Because of the first one Layla always wears some form of rainbow attire on her in the ring, whether it be kickpads, a headband or something else.
Age: 21