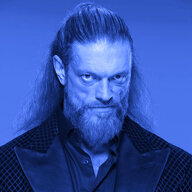 The Gawd
Staff member
Zadddyyyyy
EAW ROSTER
Answers World Champion
EAW Hall of Famer
Messages

411
Likes

770
Points

93
Location
Birth Name:
Ryan Montgomery Adams
Wrestling Name:
Mr. DEDEDE
Picture Base:
Edge circa 2010
Nicknames:
"Gawdzilla" , "The Gawd" , "Master Builder"
Height:
6'5"
Weight:
222
Date of Birth:
10/30/1980 (age: 38)
Residing in:
The Ryan Adams estate of Santo Domingo, Dominican Republic
CHARACTER INFORMATION
Gimmick:
Dark triad motherfucker with a God Complex.
RINGSIDE INFORMATION
Theme Music (Solo/The 1%):
'Talk Up' by Drake and Jay Z
]
Entrance:
The whole stage glows in white hot lights with purple flashes that 'dance' in fluctuating brightness upon the bass of the music. Smoke billows through the curtain until the entire stage is covered in smoke. Flames start pulsing up and down from the parts of the stage, and Mr. DEDEDE trolls out with confidence, and walks halfway down the ramp before stopping and lifting the corna-- inciting an eruption of pyro from the stage behind him.
In-Ring Attire:
Same as Edge's in 2010
Out-of-Ring Attire:
Gawdzilla Pro© Tracksuits and Yeezy's or KD's on his feet
Tendency to Cheat:
As much as possible.
IN-RING INFORMATION
Wrestling Training:
Trained by his Uncle Fred.
Wrestling Debut:
Began his career in 1999 in North East Wrestling.
Favorite Weapon:
The Equalizer
*Guitar with barbedwire strings, filled with nails, thumbtacks, shards of glass*
Strengths:
Abnormal resilience, speed, agility, tactical sense, quick thinking, light on his feet, strategist, vastly improved melee ability. Able to get in "the zone" and put on extraordinarily fast offense.
Weaknesses:
Arrogant, flippant, underestimates his opponents, plays too much.
*all moves ordered most effective to least effective*
Common Moves:
- Butterfly Effect –
Bufferfly Suplex Backbreaker/Double Underhook Backbreaker
- Reverse Irish whip transition into a leaping reverse STO
- Koji clutch
- Spinning back fist
- Senton neckbreaker
- O'Connor roll into a cross armbreaker
- running back elbow *desperation counter*
- Reverse roundhouse
- Big boot
- Crossbody
- Scoop slam, run the ropes, corkscrew elbow drop
- Swift boxing-style body punches
- Jumping shoulder blocks *usually done in succession*
- Jumping forearm smash *usually done in succession*
- Combat roll evasion
Signature Moves:
-
Super Butterfly Effect –
Avalanche Bufferfly Suplex rolled through into either a: (1) Butterfly Effect, (2) Ego Death Driver, or (3) MK Driver *finisher*
-
Ego Death Driver
– Sitout Vertical Suplex
- Rapture –
Helluva Kick to the cornered opponent
-
Demolition
– Diamond Cutter
- Impaler –
Lifting Impaler DDT
- "VINTAGE" DEDEDE! --
Somersault tope over the ropes, usually preceded by a running start
Finishing Moves:
-
MK Driver
– Lifting Double Underhook Brainbuster
-
Spear
– all variations
- Grand Slam – Rock Bottom with theatrics
-
MK Lock
– Vertical Muta lock, sometimes preceded by the MK Driver
Mega Finishers (cannot be kicked out of):
- North Star -
Shooting Star Press
- Monarch Death Driver
–
Top Rope MK Driver
- Wings Of Hell –
(Diving side slam to an opponent on a table, with a steel chair under the arm) -- innovated
In-Ring Achievements:
Promotions:
Answers Wrestling Federation, Sunday Night Yahoo, Elite/Extreme Answers Wrestling, North East Wrestling, Xtreme Wrestling Federation, Answers Championship Wrestling, Xtreme Online Wrestling, National Wrestling Alliance,
Answers Championship Wrestling

ACW Tag Team Championship (1 time)

Answers Wrestling Federation

AWF Championship (2 times)
World War Championship (5 times)
AWF Tag Team Championship (2 times)
AWF National Answers Championship (1 time)
AWF Midweight Championship (1 time)

Extreme/Elite Answers Wrestling

EAW Championship (2 times)
EAW Hall of Fame Championship (1 time)
Undisputed Hardcore Championship (1 time)
World Heavyweight Championship (2 times)
Answers World Championship (1 time)
EAW Interwire Championship (1 time)
EAW Hardcore Championship (2 times)
EAW Tag Team Championship (4 times) -- with Captain Charisma (1), Diamond Cage (1), Ryan Savage (1) and Cameron Ella Ava (1)
REVOLT! Tag Team Championship (1 time) -- with Impact as "Liquid Swords"
EAW 2007-2017 Decade Awards (2 times)

EAW Elitist of The Decade
EAW Match of the Decade -- vs. Ares Vendetta at Grand Rampage IX

EAW Year-End Awards (18 times)

EAW Extremist/Elitist of the Year (2008, 2014)
EAW Promoer of the Year (2018)
EAW Match of the Year (2008, 2009, 2011, 2012, 2013, 2014, 2016) -- vs. HRDO at Pain for Pride I, vs. Jaywalker at Pain for Pride II, vs. Heart Break Boy in a Last Man Standing match at Reckless Wiring 3, vs. Lethal Consequences at Pain for Pride V, vs. Y2Impact at Pain for Pride VI, vs. Mikado Sekaiichi at Pain for Pride VII, and vs. Ares Vendetta at Grand Rampage IX)
EAW Champion of the Year (2008)
World Heavyweight Champion of the Year (2009)
Feud of the Year (2011, 2018) -- vs. CM Banks in 2011, vs. Cameron Ella Ava in 2018
Shocking Moment of the Year (2018) -- Mr. DEDEDE screws CM Banks into retirement at Pain for Pride Festival
Extreme Moment of the Year (2012, 2014, 2018) -- the "90-foot fall" at Territorial Invasion 2012, Diamond Cage makes Mr. DEDEDE submit with a Railroad Spike at 2013 Awards Event, Mr. DEDEDE destroys Jamie O'Hara with The Equalizer at the 2018 EAW Draft

National Wrestling Alliance

NWA World Championship (1 time)

North East Wrestling

North East Wrestling Championship (1 time)

Saturday Night Yahoo

Rated R Championship (2 times)
SNY Hardcore Championship (1 time)

Xtreme Online Wrestling

XOW World Championship (1 time)

Xtreme Wrestling Federation

XWF Championship (1 time)
NSWF Tag Team Championship (1 time)
Other miscellaneous records/stats both in & ooc *as of 2/13/19*
Marquee Event/FPV record (under the Mr. DEDEDE character):
- 77 appearances *most in EAW history*
- 41 wins
- 36 losses
- 0 draws
MVE (Most Valuable Elitist) awards:
*disclaimer: until circa 2015 MVE was not consistently posted on a weekly basis*
- 35 Show of the Weeks written (solo and/or co-head writer)
- 21 Match of the Weeks for the Mr. DEDEDE character
- 18 Promoer of the Weeks
- 22 Elitist of the Weeks (including with stables or tag teams, such as The 1%)
End-of-the-Year awards/2007-2017 decade awards (OOC):
- EAW Writer of the Year (2015, 2018)
- EAW Writer of the Decade (2007-2017)
- Shock of the Decade: Scott Diamond 'killing' EAW (2013) *writing credits*
- 'Feel good' Moment of the Decade: Extreme Enigma winning CITV (2009) *writing credits*
- Shocking Moment of the Year (2010, 2013, 2015, 2016): Cyclone winning the 2010 Grand Rampage, Scott Diamond 'killing' EAW at Pain for Pride 6, Dynasty brand being killed at Pain for Pride 9, Eclipse Diemos winning 2016 King of Elite *writing credits*
- FPV of the Year: Reckless Wiring 3 (2011) *writing credits*
7 MOTYs written *most in EAW history*
- HRDO vs Mr. DEDEDE - PFP 1 (2008)
- Mr. DEDEDE vs Jaywalker - PFP 2 (2009)
- Extreme Enigma vs Cyclone vs Kevin Devastation - PFP 3 (2010)
- Heart Break Boy vs Mr. DEDEDE - Reckless Wiring 3 (2011)
- Impact vs Mr. DEDEDE - PFP 6 (2013)
- Mr. DEDEDE vs Mikado Sekaiichi - PFP 7 (2014)
- Cameron Ella Ava vs Sheridan Muller - Vixens Cup (2016)
Pain for Pride record:
- 8 wins (PFP 1, 3, 5, 6, 7, 9, 10, 11) *most in EAW history*
- 3 losses (PFP 2, 4, 8)
EAW head writer/GM tenures:
Showdown (January 2008 - November 2008) solo writer
Turbo (January 2009 - March 2009) solo writer
Dynasty (March 2009 - June 2010) solo writer
Turbo (Novemer 2010 - Feb 2011) solo writer
Dynasty (Feb 2011 - June 2011) co-written with Heart Break Boy
Turbo/NEO (January? 2013 - June 2013) solo writer
Voltage (February 2015 - June 2015) co-written with Robbie V
Dynasty (July 2015 - December 2015) co-written with Jacob Senn
Showdown (September 2015 - November 2015) solo writer
EAW Womens Division head writer (February 2016 - September 2016) periodic assist from Carlos Rosso and Scott Diamond
Empire (October 2017 - December 2017) solo writer
Voltage (May 2018 - June 2018) co-written with Ronn Banks
Dynasty (September 2018 - February 2019) solo writer
EAW board tenure:
CEO (2011 / Autumn 2012 - March 2013)
Co-Chairman (March 2013 - June 2013) with Scott Diamond
COO/second in command (July 2013 - September 2014)
Chairman (September 2014 - April 2016)
Co-Chairman (May 2016 - March 2018) with Robbie V
Co-Chairman (March 2018 - current) with Ronn Banks
BIOGRAPHY
http://ewrestling.wikia.com/wiki/Mr_DEDEDE
Last edited: