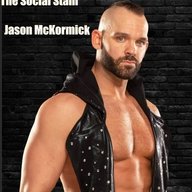 Messages

82
Likes

29
Points

18
Graphic Type: signature
Picbase/Render(s): Kenny Omega
Size: your usual sig size is great
Text: Jason McKormick The Unsung Hero (??)
Color Scheme: I personally like red....but I dunno….I'm looking for change
Additional Information: I am really trying to change up his image, especially with the new picbase and the beginning success of The Score....I've always gone dark brooding...but we have plenty of those right? lol Lets go bold??!!!