Messages

4
Likes

7
Points

3
BASIC
Wrestling Name
Samuel Kenway; Sam Kenway
Current Nickname
"The Swissblade of Pro Wrestling"
Height
6"1'
Weight
215 Lbs
Residing
Swansea, Wales
Billed from
Kobe, Japan
Trained by
New Japan Dojo
Age
23
Pic base
Jay White - circa 2018 - clean shaven
​
CHARACTER
Character Disposition
Kenway is not chained by petty moral alignments. He is what he pleases and what he needs to be, given the situation. Either way, his own interests come before anyone else's.
Gimmick
A Millenial punk, at a mere 23 years old, he might be the youngest kid in the block, but he's become of one of the most talked-about guys in the indy scene. He knows he's the future and is betting on himself as much as possible. Believing that the "art" of fighting is dying out, Samuel wants to bring some class and prestige into the sport. In his journey to trying to attain this extensive knowledge of wrestling to the fullest extent, he has circled the globe, absorbing any and all craft of the sport. His goal is to break the cycle, the mold so as to speak. A wrestler first but an opportunist and businessman second, Sam wants to establish his own idealogy of what combat is supposed to be. Kenway loves fame and money and wishes to open his own line of wrestling apparel and school someday, but it is a long-term goal. He's like the quintessential anime villain, which is no surprise since he spent much of his years training in Japan. Right now Sam is just a hungry fighter who is out for experience and street cred. He knows he won't have success handed on a silver platter, so he's now out to prove himself and garner an image/following so as to speak. The biggest leaps require the smallest of steps.
RINGSIDE
Theme Music
Entrance Description
The lights dim as the arena titantron erupts pillars of flame. A slash of blade resonates the arena and Samuel walks out of the back and faces the crowd from the stage. He then points to the ring and shouts "Mine!" and walks down the ramp, not taking his eyes off the ring. He then climbs the steps and goes up the buckle to top rope and overlooks the crowd.
Entrance Attire
Black jacket with tights and boots.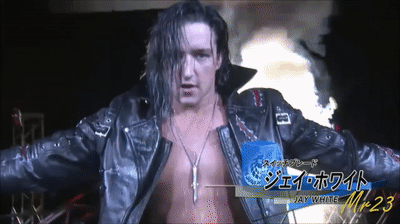 Segment Attire
Unless he's in the segment right before or after the match, in which case it would be the entrance attire, his more formal look is usually a suit. Colours may vary.

Motivations
To build his repertoire and brand
To face the toughest of fights and live to tell the tale
To Crush his enemies, see them driven before him and hear the lamentation of their women​
Tendency to Cheat
Ask yourself, would one wish to swim across a crocodile-infested lake if there's a bridge that simply allows one to traverse over it? The destination is what matters, what SHOULD matter. If people with no ambition or drive wish to label such an act as "cheating"...so be it.
Wrestling Style
Explosive and acrobatic, yet graceful and precise. Samuel is a showman through and through, he will taunt, he will boast, he will try to intimidate, he will laugh and jeer, but also respect and even clap when his opponents give him a good time in the ring. The name "swissblade" did not get attributed to him for nothing, but in all honestly, it works against him sometimes. When you're the jack of all trades, you're the best in none. But that is fine, as long as a problem exists, you can bet Sam will know the solution. While primarily his moveset is inclined towards a strongstyle brawler/highflyer, he will occasionally pop off power moves, technical wrestling and even mat wrestling.
​
Favorite Match Types
Last man standing/endurance type matches. Long drawn matches mean Kenway is facing a worthy opponent who is just as good as he is, which only makes Kenway that much more determined to shatter their dreams in the ring.
Least Favorite Match Types
Handicap, I feel bad for the wrestlers that are to face me, clearly "solo" is not a word in their dictionary!
Favorite Weapon
The back of the hand of enough but if I must, I will use a switchblade, usually the hilt, but I won't shy away from the blade itself when needed. If it matters, Sam is more of a "the pen is mightier than the sword" kind of guy. He's not looking to kill someone.
​
COMMON MOVELIST
Knife Edge Chop
Running Lariat
Butterfly Suplex
Saito Suplex
Running European Uppercut to opponent in the corner followed by dusting his hands off
Front Missile Dropkick
Knee to the midsection followed by cussing the opponent while grabbing their hair
Double Leg takedown followed by multiple punches
Baseball slide
Diving Clothesline
Double Legdrop to midsection
Sitout Jawbreaker
Multiple Stomps to opponent in the corner while jeering at them
Boston Crab while laughing
Enzuigiri
Senton
Senton to the outside of the ring
Suicide dive while yelling "Bombs Away!"
Feint Roundhouse kick
Spinning Heel Kick
Attempting to pin opponents with one foot while doing the "Orton Pose"
Diving Double Footstomp
Reverse STO into turnbuckle
SIGNATURE MOVELIST
1. Matilda (stylized M4T1LD4) :

Throat-slit taunt followed by five star frog splash off the top rope on a fallen opponent. sometimes enough to put out the opponent if hit after a long match
2. Fadeout:

Diving Headbutt off the top rope.
3. Tripwire:

STF submission hold
4. Serrated Swissblade:

Splitlegged Corkscrew Moonsault aka Starship Pain
5. Savior Clash:

Headlock Driver; sometimes from second rope called "Dominus Maximus"
6. Buyrate:

Crotch chop at opponent in the corner followed by Bronco Buster
7. Turn of the Century:

Sharpshooter while looking at an imaginary watch and acting bored
​
FINISHING MOVELIST
1. Ghidorah Cannon:

Diving Corkscrew Stunner aka Ember Moon's Eclipse
2. Protego Diabolica:

Spear

with rebound from the ropes. The more rebound, the stronger it is.
Last edited: