Je Suis Le Champion!
EAW ROSTER
New Breed Champion
Messages

2,692
Likes

1,352
Points

113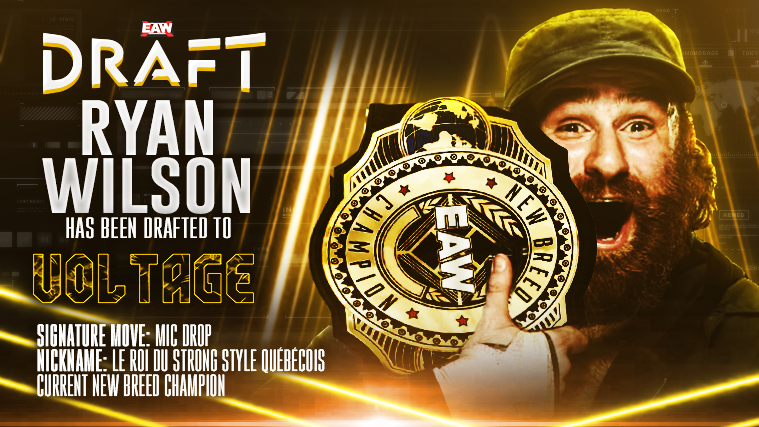 Season 15
​
BASIC INFORMATION
Full Name: Ryan Joseph Wilson
Picture Base: Sami Zayn 2020 version
Nicknames: Le Roi du Strong Style Québécois ( King of Québec Strong Style ). The Architect
Height: 6', 1''
Weight: 220 lbs
Hometown: Montréal, Québec, Canada
Residing in: Newark, New Jersey, USA
Alignment: Ruthless, Relentless, Savage, Risk-Taking Tweener
Tendency to Cheat: Only if he feels it's necessary
Gimmick
Ryan Wilson has joined Elite Answers Wrestling in August 2017 where he first started as a member of the NEO Developmental brand. Since then, the Montréal native has been slowly climbing his way towards the upper echelon of the company. For almost four years now this man has shown to be one of the most constant performers around as well as one of the sharpest minds this company had been able to push talent no one thought could make it anywhere and turned them into Champions and helped current stars on the decline to regain their stride and gain titles. While Season 14 has not been a good one in terms of wins and losses it has been the best season to date for the man who has given quality matches after quality matches all season long and through his efforts has managed to keep climbing the ladder and received several title opportunities. Management took notice of him especially during the Grand Rampage where he produced an impressive amount of promos and kept on going hard for the weeks following having come close to win both the Unified Tag Team Championships by carrying Chained Fury on his shoulder and almost to victory and then during Battle of Egypt eliminated 4 of the 9 opponents he faced having started first along with Champion André Walker only to be eliminated by the new record holder for the longest New Breed Championship reign. Ryan Wilson has shown that he is not the loser everyone believes he and has Awards and Accolades to back his claim. He has shown that he is a reliable competitor who will give everything week in and week out and will never slow down, never stop, never quit, and will always give his all no matter the opponent or the stipulation. He considers himself one of the best wrestlers on the EAW to have yet to win a title. All of that changed in June 2021 at Pain for Pride when he won the New Breed Championship against Ronan Malosi during the second edition of Chained Fury, ending an almost 4 years journey to title glory. Now that this chapter is written and done, a new one begins one where he sets his sights to push the New Breed Championship to greater heights and where he fixes himself greater goals than he did before. He will do it with a new and improved fighting style, the Quebec Strong Style a mix between Canadian and Japanese Strong Style with a twist of his own aided with his new special trainer George ''Rush'' St-Pierre.
What is the Québec Strong Style?
The Québec Strong Style is a mix between Canadian and Japanese Strong Style with a twist of his own aided with his new special trainer George ''Rush'' St-Pierre. A whole new type of smash-mouth hard-hitting style with elements of technical wrestling along with some submissions. Ryan decided to pay homage to his Province of origin as well as its rich sport and cultural history through this by naming Québec Strong Style.
Motivations
Defend the New Breed Championship and elevate it.
Impose dominance with a new style of fighting.
Will enjoy a great fight when he sees one.
Will seek to have greater and grander fights than he ever had before.
Will seek to elevate himself higher up the card than he was at the of Season 14.
Win more Championships.
Establish and break records.
Strengths
Extremely arrogant
Supremely confident in his abilities
Incredibly resilient
Very cunning, a proven schemer as shown during Season 14
Able to handle pain, actually enjoys it
Willing to hurt himself if it allows victory
Not afraid to take risks of all sorts
Weaknesses
Taking risks can blow in his face
Can sometimes lose himself to his arrogance
Obsessed with reaching his goals
Notes for booking
Ryan ended Season 14 on a strong note by becoming New Breed Champion, he intends to continue with that momentum into Season 15.
Ryan Wilson is a fighting Champion who doesn't back down from a challenge.

He will not

take the cowardly path to dodge matches or title defenses.
He will not hesitate to work stiff in order to hurt his opponents and impose his way in the ring.
Ryan wants to show he is not playing games and is determined like never before.
In matches, he will resort to any and all sorts of tactics in order to achieve victory.
Will resort to extreme measures if it can help drive in a point or procure victory.
Will relentlessly focus on a weak part of an opponent's body if it helps win the match or cause injury to drive a point.
With a title around his waist, Ryan knows his time is now and thus will make the most of it at all time.
Be creative. Ryan would be.
If fans are cheering Ryan, they could do ''Olé! Olé Olé Olé!'' chants to show support or ''Allez Montréal Chants'' like the Montréal Canadiens fans do.
If fans boo Ryan, they can taunt him by chanting his family name sarcastically like fans in hockey do to annoy visiting players.
Wrestling Debut: June 2015, Sanctuary of Wrestling
EAW Debut: August 2017
Trainer: Sebastien 'Prime' Primeau
Coaches: Sylvain Primeau and Tony 'Brujah' St-Michel
Special Trainer: George ''Rush" St-Pierre
Wrestlers trained: Simon-Gaele Primeau ( Sebastien's son, Sylvain's younger brother ) Scott and Steve Stanley
Favorite Match Types: Chained Fury
Least Favorite Match type: Doesn't have a least favorite match. Used to be multi-participant bouts but not anymore.
Favorite Weapon: Barbwire Hockey Stick
In-Ring Achievements: There is a section for that down there, scroll down.
Season 14 Entrance Theme -
'The Only Thing They Fear is YOU' from Mick Gordon
Past Entrance Themes
- 'Awaken' by Dethklok
- 'My Way' by Limp Bizkit
- 'Chaos' by Skold
- 'Psyched Out' by The Supersuckers
- 'Gangnam Style' by PSY
- 'Don't Stop Me Now' by Queen
- 'X Gonna Give It To Ya' by DMX
RYAN WILSON MATCH ARCHIVES
​
Every match Ryan has done in EAW can be
found here
.
Note - Matches from NEO and Voltage Season 11 missing. Archives not found.
Note 2 - More matches will be added as Season 15 signs of progress.
ENTRANCE​
FPV Entrance - In progress, but he will be wearing a replica of the Doom Slayer outfit to go along his entrance music
Regular Entrance - Depending on if he is cheered on or booed he will wear sports jersey's from either the local team or rival teams of the local sports teams.
For Season 15 Ryan Wilson has revamped his arsenal of tools, moves and fighting style to create a new type of Strong Style with the help of multiple times UFC Champion George St-Pierre in a style that he refers to as ''Québec Strong Style'' which will begin to be put on display during Season 15.


Ground Moves

MMA style takedowns
Handspring Headsciddors Takedown
Repeated Flashing Elbow Drop
Ground and pound
Pointed Elbow Drop
Snapmare
Hip Toss
Camel Clutch
Leg Grapevine

Standing Moves

Enziguri
Russian Legsweep
Butterfly Suplex
DDT
Gutwrench Suplex
Bulldog
Dropkick
Swinging Neckbreaker
Belly-to-Back Suplex
Backbreaker
Uppercut Québécois ( European Uppercut )
Jumping Vertical Suplex
Northernlight Suplex
Inverted Atomic Drop
Clothesline / Flying Clothesline
Armdrag
Abdominal Stretch
Stun Gun
Face breaker knee smash
Hammerlock Slam
Gut Knee
Reverse Elbow
Back body drop
Wastelock Takedown
Running Powerslam
Hangman
Slingshot
Sidewalk Slam
Brainbuster
Vertical Suplex
Atomic Drop
Headbutt
Leg Elbow
Standing legdrop
Calf Kick ( When trying to weaken opponent's base )
Spinning Heel Kick
Suicide Dive Into Tornado DD

Running Knee
Rack Bomb
Fisherman Buster
Inverted Headlock Backbreaker
Northern Lariat
Lethal Injection
Golden Triangle Moonsault

Corner Moves

Helluva Kick
Split legged Moonsault
Monkey Flip
Corner-leap sunset flip
Turnbuckle Snap Suplex

Pin Attempts

Crucifix Pin
Fallback Pin
Rollup
Schoolboy
Magistrale Cradle
Counter Inside Cradle
Grapevine Cradle

Submission Manoeuvers

STF
Le Crabe du Québec ( Boston Crab )
Scorpion Crosslock

From the Top

Whisper in the Wind
Superplex
Frog Splash
Diving Elbow Drop

On The Apron

Snap Suplex
Suicide Suplex ( From apron to the outside, can be done from inside the ring too )
Leg Drop
Running Knee ( Ryan outside the ring, opponent on apron )
Diving Knee Strike
Summersault Plancha
Corkscrew Legdrop
Guillotine Legdrop

Using the Ropes

Opponent's neck against the rope and then stomp
Diving Thrust Kick
Running Crossbody
Springboard under ropes
Seated Knee Senton
Springboard Tornado DDT
Suicide Dive
Rope Hung Front Kick
Phenomenal Forearm
Spaceman Moonsault Plancha
Springboard Leg Drop

Using Chairs

Setting one up to jump onto ropes or corners then leap on his opponents
The Wilsonator ( Van Daminator )

Outside of the Ring

Ringpost figure four leglock
Baseball slide
Suicide Dive

Taunts

After beating an opponent will stand straight with a stoic look and his hands behind his back

Signature Move

''The Four Hit Combo'' - Superkick followed by a high knee to the jaw then a discus lariat and finish with a Suplex double knee backbreaker.
La Bombe Bleu - Blue Thunder Bomb
Superman Punch - Self Explanatory
Chemin de Croix - Crucifix Powerbomb

Finishing Moves

Impact: Mic Drop ( Small Package Driver, may be changed. )
Main Submission: Sharpshooter
Secondary Submission: Twice Submitted - Ground submission move where Ryan uses his legs to do a triangle choke on the right side of his opponent and on the left applies a kimura lock to the other.
Ultra Finisher: The Game Over Stunner
CAREER TITLES AND ACCOLADES and Others (Since June 2015)​
Sanctuary of Wrestling
(SoW)
Winner of the SoW Next Big Thing Invitational 2015
WildSide Champion x 1 ( First ever Championship )
CUW Universe
(CUW)
Tag Team Championship (with Brujah St-Michel) x 1
Tag Team of the Year Award 2016 (Shock Duo: Ryan Wilson / Brujah St-Michel)
Tag Team of the Year Award 2017 (Shock Duo: Ryan Wilson / Brujah St-Michel)
Rivalry of the Year 2017
Promoter of the Year 2017
Superstar of the Year 2017
Hardcore Champion x 1
World Champion x 1
Federation de la Grosse Baston
(FGB)
Tag Team Champion (with Brujah St-Michel) x 1
Bloody Champion x 1
Squared Circle Alliance
(SCA)
World Champion x 1
Elite Answers Wrestling
( EAW 2017-Current )
EVO Series Finalist ( 2017 )
EAW Tag Team Grand Prix participation ( 2017 )
Rising Star of the Week MVE #146, 272
Hardcore Championship Contender x 1 ( September 2018 )
Created the group known as ''The Score''
New Breed Championship Contender x 1 ( October 2018 )
Pure Championship Contender x 2 ( May 2019 )
Pure Championship Contender x 3 ( July 2019 )
Beef of the Week MVE #189, 193, 212, 259, 263, 270, 279
New Breed Championship Contender ( September 2019 )
Showdown General Manager ( March 21st, 2020 - March 27th, 2021 )
Creator of the Chained Fury match
Match of the Week MVE #248, 279
Unified Tag Team Championship Contender x 1w/ Ronan Malosi ( Road to Redemption 2020 )
Winner of the Feud of the Year 2020 Award ( Against Ronan Malosi )
Record for Most First Message Likes ( 32 - A Christmas Carol posted Dec 24th, 2020 )
Gave the winning strategy to New Eden to have a chance to achieve their dead-end goal and they applied it!
Promoer of the Week MVE #270
Most Valuable Elitist MVE #285
New Breed Champion ( June 25th 2021 - Present )
2021 Territorial Invasion Brand Warfare winner ( Voltage )
RYAN WILSON'S EXTENDED UNIVERSE​
Ryan Wilson since he was discovered by his late mentor has grown an entourage of people that appears on occasion during his promos.
Ian Ternivsky
aka ''Ian Turn'' aka ''The Intern''
Picbase: Jim Halpert from The Office
Ryan hired him when he first made it to EAW because Ian's name was funny, the poor guy won't ever get past intern status with a name like that. He's well-intentioned though, and Ryan does treat him well.
Sylvain Primeau
Picbase: Scott Atkins from Undisputed
Height: 6'01
Weight: 230 pounds
Championships:
SOW World Championship ( x2 )
SOW Intercontinental Championship ( x1 )
SOW Television Championship ( x1 )
SOW Grand Slam Winner
SOW Triple Crown Winner
SOW Money in the Bank Winner
Formerly using the shadow name of Mister Fortwahl during Wilson's debuts in EAW, Sylvain is now Ryan's enforcer as part of the newly formed Family group following the disbanding of The Score.
The former soccer player turned wrestler is the eldest son of Sebastien 'Prime' Primeau the man who first introduced Ryan to pro wrestling. Sylvain made history back at Sanctuary of Wrestling by breaking several records, winning championships and establishing himself as the promotion's fastest rising star. Since the death of his father, he has been traveling with Ryan training him.
Tony ''Brujah'' St-Michel
Picbase: Martyn Ford from Undisputed
Height - 6'08
Weight - 320 pounds
Championships
ICW Hardcore Title (x3)
ICW Tag Team Title (x5)
UWA Tag Team Title
TWF TV Title,
TWF Generation Title (x2)
LWF Tag Team Titles (x2)
LWF Hardcore Title (x2)
SOW Hardcore Title (x2)
SOW Horror House Show Title
FGB Tag Team Champion ( w/ Ryan Wilson )
FGB World Champion
CAW Tag Team Champion ( w/ Ryan Wilson )
Longtime tag team partner and ally of Prime and trainer of Ryan on the hardcore and extreme side of things, Tony St-Michel is an MMA brawler who fought his way from the streets up to wrestling superstardom by utilizing his strength and power to his advantage in brutal ways. One example was a match with Prime where he threw him from the first balcony of the Bell Centre forcing him into retirement after having betrayed his once best friend. Tony is known on the independent scene for his violence and bestial-like savagery in the ring and out. He excels in tag team and extreme matches having won hardcore and tag team championships on several occasions with Prime and also with Ryan Wilson. He now follows Wilson as his enforcer as a member of The Family and trains him along with Sylvain.
Sebastien ''Prime'' Primeau
( Deceased )
Picbase: Corporate Sting
Height: 6'02
Weight: 252 pounds
Championships
( The full list can be provided upon request )
World Titles : 13
Intercontinental Titles : 9
Hardcore Titles : 7
Tag Team Titles : 10
Inferno Title : 1
Television: 1
Cruiserweight Title : 1
Known as ''The Global Legend'' he is the man who allowed Ryan Wilson to have a crack at professional wrestling, a Legend of pro wrestling in Montreal with 42 titles to his name including 13 World Titles. He made a name for himself by being an aggressive foul mouth brawler. In later years he made a fortune in the communications business when he founded Prime Media Enterprises which his son is in charge of today. Unfortunately, death claimed this man in a criminal fire during a Sanctuary of Wrestling Pay-Per-View in early late 2016 which caused the end of the company. Ryan Wilson is paying his respect to his mentor by using the man's iconic finisher the Game Over Stunner. Sebastien is survived by his wife Andrea and Sylvain's younger brother Simon-Gaele who wrestled for a short time in SOW but decided to opt-out of wrestling after his father's demise.
Simon-Gaele Primeau
Picbase: Unknown
No information is known other than this is Prime's youngest son and is training under Ryan Wilson.
Lady Anabelle Desmarais-St-Michel
Picbase: Lady Dimitrescu from Resident Evil Village
Very little information is known about this woman whose soft-spoken voice was heard briefly at the end of a promo on March 11th, 2021. On April 6th, 2021 she appeared again during a promo where she invited Doctor Bethany Blue for high tea. There we learned she is Tony St-Michel's sister and is afflicted with gigantism which explains her tall stature of almost 7'' of height.
to discover them!
Last edited: