Kassible Lecter 🖤🩸💀
Staff member
EAW ROSTER
Universal Women's Champion
Unified Tag Team Champion
EAW Hall of Famer
Grand Rampage Winner
Messages

1,470
Points

113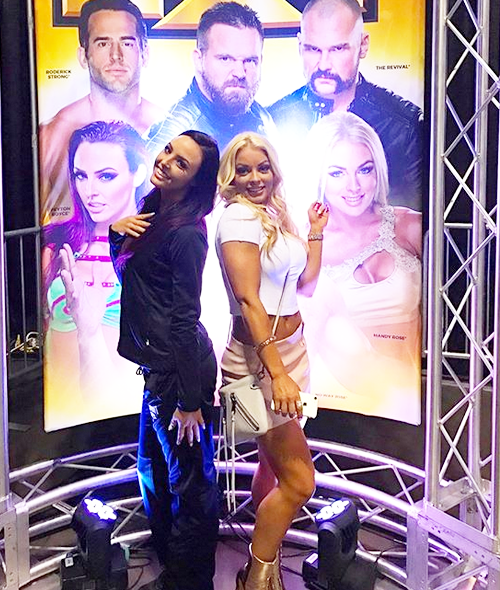 BASIC INFORMATION
Team Name: The Jaded Hearts
Team Members: Sienna Jade & Kassidy Heart
Picture Base of Each Member: Peyton Royce | Mandy Rose
Combined Weight:Rude
TEAM INFORMATION


Team Disposition/Alignment: Choose from these options: Mean Girl Heel
Team Gimmick:
Are there words in the English language that truly explains the perfection known as the Jaded Hearts? Jaded Hearts began when the Freeweight champion, Sienna Jade, saw an immense amount of potential in Kassidy Heart as Kassidy is the only woman to pin the champ in REVOLT! Pro Combat. Instead of hunting her down and making Kassidy her new target, Sienna proposed an offer that Kassidy couldn't deny. She allowed Kassidy to be under her wing and taught her everything that she knew in exchange for her loyalty. Kassidy has blossomed from "Everyone's Favorite Girlfriend" to "Everyone's Worst Nightmare." Both women are in love with one another, not in a dyke-ish way, of course, and have learned to love one another like sisters. Both women rep REVOLT! Pro Combat until the death of their careers and plan to make sure REVOLT's legacy lives in via their careers.
RINGSIDE INFORMATION


Theme Music: 'True Love' by CFO$
Entrance: [Optional] The team's regular entrance. Write it exactly how you want it to be posted, preferably in present tense to fit the show format. If you don't want to fill this out, the writers will come up with their own short entrance based on given information.
In-Ring Attires: See solo stats for this information.
Entrance Attires: See solo stats for this information.
Segment Attires: See solo stats for this information.
Tendency to Cheat: Choose from these options: Always | Often | Sometimes | Rarely | Never | If Needed
Motivations: What are your character's motivations for competing? Delete all options that do not apply:
● Financial Gain – they want to get rich through competing
● Glory – they just want to win and don't care about anything else
● Gold – they want to win as many championships and achievements as they can
● Punishment – they just want to hurt people as much as they can
● Platform – they want fame and influence
IN-RING INFORMATION


Wrestling Training: Sienna split her wrestling training between Calgary, Guadalajara, and Tokyo. Kassidy has been training strictly with Andrew Wolfe in San Diego, California.
Wrestling Debut: The Jaded Hearts made their official debut as a team on March 3, 2018 on REVOLT's Resurgence. Obviously they won
Strengths:
● These two women are truly best friends. Regardless of how their relationship started, they have formed one of the tightest, and most unbreakable bonds professional wrestling has ever seen. They think the same. They act the same. They work together as a flawless unit.
● For as great as The Jaded Hearts are inside the ring, it's their passion and determination that set them apart from everyone else. They refuse to ever let anyone tear them down or get the better of them. Both of them have worked so hard to get to where they are, and both believe in fighting like Hell to stay at the top where they belong.
● These two women are also willing to die for one another. They will always go above and beyond to make sure the other person is never harmed <3
Weaknesses:
● Ego, ego, ego! Sienna and Kassidy truly believe the world revolves around them. Their sense of reality doesn't exactly match up with anything that's going on around them, and there's no reasoning with them.
Promotions:
● The company REVOLT! saved. Elite something or the other
● REVOLT! Pro Combat
In-Ring Achievements:
● EAW Empire Tag Team Champions (current; defeated the Crowe's Nest at PFP 11)
● Competed in the main event of Terminus 2018 for the right to become the first ever Empire Tag Team Champions
● Retired countless sluts
Common Moves: Minimum ten (10)
● Double Dropkick
● Cheap tactics in the corner (Choking, entering the ring while the other distracts the ref. ect.)
● Double Russian Legsweep
● Assisted strikes in the corner
● Clothlesline / Chopblock combination
● Double Facebuster (Both grab their opponent's head and mercilessly pull them forward, bouncing the opponents head off of the mat.)
● Drop Toe Hold by Kassidy, Shining Wizard by Sienna
● Double Hair Whip out at the Corner
● Double Hip Toss
● Camel Clutch applied by one, basement Dropkick to opponent by the other (The roles in which this move would be performed can alternate.)
Signature Moves: Minimum of two (2), maximum of six (6)
● 'Life's A Drag' – Fireman's Carry Lift by Sienna, tossed into a German Suplex by Kassidy
● 'Subculture' – Legsweep by Sienna, Spinning Heel Kick by Kassidy combination
● 'Ride or Die' – Simultaneous Moonsault by Sienna and Flying Headbutt by Kassidy
● 'Soft Glam' – DDT / Wheelbarrow Suplex Combination. The roles in which this move would be performed can alternate.
● 'Modern Renaissance' – Figure Four set up by Kassidy - Diving stomp to exposed leg by Sienna - into the 'XoXo Kass' Figure Eight.
Finishing Moves: Maximum four (4)
● 'Golden State of Mind' – Catapulted Meteora. The roles in which this move would be performed can alternate.
● 'The Beauty Killer' – Sick Knee from Sydney
NOTES


These are notes about your team. Can be anything from any sports background they may have to a particular quirk you want the writers to know about. Any facts you want to include about your characters can go here.