Kassible Lecter 🖤🩸💀
Staff member
EAW ROSTER
Universal Women's Champion
EAW Hall of Famer
Grand Rampage Winner
Messages

1,457
Points

113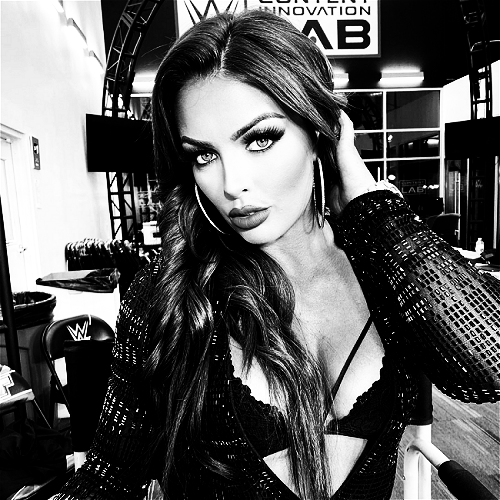 ​
Government Name: Kassidy Ashlynn Brighton Adams

Wrestling Name: Kassidy Heart

Picture Base: Mandy Rose (with brunette hair, you're welcome)

Current Nicknames: The Mauler, The Mad King, Kass the Conqueror, Kassible Lecter, The Crown Jewel of the Industry, Gawd's Gift to Professional Wrestling

Pronouns: She/Her

Height: 5'4"

Weight: 141 lbs.

Hometown: Sydney, Australia


Disposition/Alignment: Chaotic Tweener; love Kassidy Heart or hate her, she is going to make you feel something. She is a polarizing figure who speaks her mind and handles her business her way.

Personality: Kassidy walks, talks, and acts like she is an irreplaceable entity in this business, and well… she kinda is. In just four short years, Kassidy has amassed a Hall of Fame resume and she shows no signs of slowing down. She wants more. She needs more. Kassidy is the type of competitor who needs to be challenged. She doesn't believe anyone in EAW is able to compete at her level and she routinely encourages her opponents to step up and give her something worth thinking about. She talks down to everyone. She doesn't think anyone can truly give her a run for her money. In her mind, she is at Gawd status, and the rest of the world has to prove themselves to her. Kassidy is not going to let any person or situation make her feel less than the absolute best to ever grace the ring. She is goal oriented and the only things she cares about are Gawd, their kids, and her best friend, Sienna Jade. Kassidy is poised to become the greatest of all time. The true greatest is not going to be your favorite Elitist. They are not on some other roster, or some unsigned talent. The one and only 'Crown Jewel' of the industry is the woman chosen by Gawd himself to take the throne beside him, and that is Kassidy Heart.

Alternative Personality: As documented, Kassidy suffers from Dissociative Identity Disorder and her alternative personality is only known as The Mauler. The Mauler is a more aggressive, cannibalistic, and animalistic side of Kassidy that thrives off of blood, destruction, and chaos. There are no true human qualities to this being, and Kassidy struggles to control it. The Mauler has shown itself in EAW plenty of times, typically leaving a broken trail of bodies and shattered egos in its wake. It can appear at any time, during any situation, and extreme measures are usually needed to control it such as restrictive masks to keep it from biting, tasers to keep it subdued, and sedatives to knock it completely out. The Mauler isn't fun for anyone to be around the more it appears, the stronger it gets, chipping away at Kassidy's already questionable mental state and threatening to make its host disappear for good.

Motivations: Kassidy is motivated by championship gold, fame, fortune, and the goals that have been set for her. As the wife of Mr. DEDEDE, she understands that there are certain expectations that have been placed on her shoulders and she's more than willing to rise to the occasion each and every single time in order to surpass them. Mr. DEDEDE has instilled in Kassidy that it is her destiny to go down in the history books as the greatest of all time. He has taught her to NEVER settle and she knows that complacency, mediocrity, and complaining are things that will not be tolerated in their household. Needless to say, the newly minted Hall of Famer remains hellbent on growing her legacy and making sure she remains forever untouched.


Theme Music: 'Partition (Smearcase Trap Remix)' by Beyoncé

Entrance Notes: [x] Think brunette Mandy NXT entrance. Kassidy oozes confidence and sex appeal, and the camera loves her, focusing on suggestive angles of her body (focusing on legs, hemline, chest, ect), and all that good stuff.

Ring Attire: [x] [x] [x] [x] [x] [x] [x] All styles come in various colors. Please note, The Mauler is forced to wear a Hannibal Lecter style mask that is usually made of metal and is removed before the match.

Segment Attire: Kassidy's style is an eclectic mix of designer, high-end pieces mixed with more simple, Fashion Nova type of pieces put together by stylist, Konstantine, and accentuated with amazing hair and make-up looks thanks to her hairstylist, Emmanuel, and her make-up artist, Stassi. Don't hesitate to ask if you need an outfit!


Wrestling Training: As shocking as it seems, Kassidy actually comes from rather humble beginnings. At the age of 16, she got into the business as a valet, and after standing at ringside for two years, she decided she wanted to give wrestling a try. She was not a natural and had to work extremely hard to even become competent inside the ring, and this led to her down a path of abuse and torment at the hands of other wrestlers/students. She linked up with a trainer in the San Diego area that she had actually known in Australia, and he took her under his wing, taught her the ropes, and got her involved in an underground, backyard deathmatch promotion. Kassidy was taught the art of submission and mat wrestling, and taught how to combine that with the pure brawling and weapon use you see in deathmatches. Currently, Mr. DEDEDE has taken over Kassidy's training, with the primary goal to turn her into a war machine that attacks on command. Kassidy has a team of fitness coaches and combat experts at her disposal, who are responsible for bringing Mr. DEDEDE's vision to life. Kassidy is kept on a very strict schedule, training program, and diet, and as a result has become one of the most ruthless, lethal, and complete competitors EAW has ever seen.

Favorite Match Types: Despite being technically gifted, Kassidy's heart will always belong to deathmatches and any kind of match that allows her the freedom to use whatever the hell she wants to hurt her opponents and make them suffer.

Least Favorite Match Types: Despite having three notable wins in multi-person matches, Kassidy doesn't favor them. She is more prone to attacks, surprises, and being ganged-up on in matches that involve more than one or two opponents. She likes to have control of every situation she is and multi-person matches do not allow her that luxury.

Favorite Weapons: Kassidy's bare hands and teeth are her primary weapons, but after Road to Redemption 2021, she's developed a disturbing fascination with claw hammers. Two other things that Kassidy keeps in her proverbial back pockets are a cattle prod, and her own personalized version of Mr. DEDEDE's 'The Equalizer'. Always ask before using 'The Equalizer', as it should only be brought out sparingly and under extreme circumstances.

Strengths: Pound-for-pound, Kassidy is one of the strongest Elitists in all of EAW. She is very technically sound and can adapt pretty quickly to whatever style of combat her opponent is versed in. Her stamina and conditioning are top notch, and she has been built to go the distance in her matches. One interesting thing about Kassidy is she is part sadist and part masochist in the ring. For as much as she enjoys dishing out punishment to her opponent, she can handle being tortured and thrown around, sometimes even asking for her it.

Weaknesses: Kassidy has well-known history of concussions and head injuries, and that should obviously be a target for any opponent of hers. Kassidy is also pretty fearless, which sometimes can lead her down a path of taking risks that may not pay off. She's not sloppy inside the ring or anything, but sometimes a wrestler just misses and pays the price for that. She's also extremely arrogant and while she knows that anyone can overachieve on any given day, she doesn't typically view any competitor on her level. So people are capable of surprising her and forcing her to think on the spot, which might not be ideal for someone with a history of head injuries and mental illness. Another thing worth noting is that Kassidy is very stubborn, fighting through pain and agony, refusing to quit and often putting herself in precarious situations that can come back to haunt her.

Tendency to Cheat: Kassidy will NOT outright cheat to win a match, but she will test the referee to see how far he/she is willing to let her go. Kassidy's an aggressive, cutthroat type of person, and she knows that due to being Mr. DEDEDE's wife, she can get away with a lot. This also works in her opponents' favor as well, because they will be able to take liberties as well. Kassidy isn't one to complain if someone goes right back at her with the same energy. She would welcome it and enjoy the match a hell of a lot more, actually.


Universal Women's Champion (06.17.2023 - current)

Answers World Champion (03.27.2021 - 02.05.2022; longest reign in history)

National Elite Champion (02.08.2020 - 06.28.2020)

Universal Women's Champion (06.22.2019 - 10.12.2019)

Vixen's Champion (01.10.2019; last ever)

Unified Tag Team Champion (w/Sienna Jade; 02.02.2019 - 04.20.2019)

Empire Tag Team Champion (w/Sienna Jade; 06.21.2018 - 11.24.2018)


2023 Grand Rampage Winner

2022 Hall of Fame Inductee
2021 Showdown Extreme Elimination Chamber Winner

2021 King of Elite

Triple Crown Winner

2019 Iconic Cup Holder

2018 Tag Team Grand Prix Winner


Female Elitist of the Year (2019, 2021)

Female Promoer of the Year (2018, 2019, 2021)

Women's Champion of the Year (2019)

Answers World Champion of the Year (2021)

Match of the Year (2019: vs. Serena Bennett @ Operation: Doomsday; 2021: vs. Consuela Rose Ava @ Grand Rampage & vs. Jamie O'Hara @ Pain for Pride 14)

Tag Team of the Year (2018 w/Sienna Jade)

Tag Team of the Decade for the 2010s (w/Sienna Jade)

Stable of the Year (2018 w/Sienna Jade & Tyler Wolfe)

Shocking Moment of the Year (2019; Mr. DEDEDE drugs and marries Kassidy Heart)

Elitist of the Month (March 2019, February 2021, March 2021, November 2021)


Beef of the Week: 134, 148, 152, 159, 188, 198, 202, 209, 222, 265, 281, 299

Match of the Week: 152, 154, 174, 188, 192, 198, 201, 206, 222, 227, 250, 257, 258, 265, 275 (PFP Edition), 295, 303, 308, 313, 318

Promoer of the Week: 134, 136, 138, 146, 148, 166, 174, 176, 181, 201, 245, 258, 265, 278, 281, 295, 299, 303, 318

Champion of the Week: 146, 154, 158, 176, 188, 190, 195, 218, 275 (PFP Edition), 278, 288, 295

Most Valuable Elitist: 138, 166, 174, 188, 258, 259, 265, 278, 281, 295, 318


Kassidy has headlined the following events: Terminus 2018, Manifest Destiny 2018, Territorial Invasion 2018, The Iconic Cup 2019, Operation: Doomsday 2019, Battle of Egypt 2019, Road to Redemption 2019, Reasonable Doubt 2020, King of Elite 2021, Under Siege 2021, Pain for Pride 14, Midsummer Massacre 2021, Reasonable Doubt 2021, Road to Redemption 2021, Pain for Pride XV, Reasonable Doubt 2022, Grand Rampage 2023, Pain for Pride XVI

Kassidy has been featured on the following free-per-view and supershow posters: [x] [x] [x] [x] [x] [x] [x] [x] [x] [x] [x] [x] [x] [x] [x] [x] [x] [x] [x] [x]

The Jaded Hearts made history on February 2, 2019 when they became the first female tag team in EAW history hold both the Empire Tag Team Championships and the Unified Tag Team Championships.

Since Season 12, Kassidy has appeared on every single brand in a single season at least once in some capacity.

The Jaded Hearts made history on February 2, 2019 when they became the first female tag team in EAW history hold both the Empire Tag Team Championships and the Unified Tag Team Championships.

Literally got blown up inside the WHC Extreme Elimination Chamber at Road to Redemption 2019 thanks to an exploding pair of chancletas.

Despite only being with REVOLT/EAW for less than two years, Kassidy found herself nominated for a number of 2010s EAW Decade Awards. The blonde was nominated for Female Elitist of the Decade, Promoer of the Decade, and Tag Team of the Decade (shared with Sienna Jade). The Jaded Hearts would go on to win the Tag Team of the Decade award.

Kassidy was named to the EAW All-Decade Women's Team for the 2010s along with Kendra Shamez, Cameron Ella Ava, Andrea Valentine, and Sabina.

First woman to ever hold the National Elite Championship, a championship that has been around since 2008.

In 2021, Kassidy became the first woman to make the finals of the King of Elite tournament, and she would go on to win it, defeating Xander Payne of Dynasty and TLA of Voltage.

Kassidy is the first woman to headline Pain for Pride as the Answers World Champion, doing so at Pain for Pride 14 against Jamie O'Hara. She is also the only person in history to ever make Jamie submit.

In 2023, Kassidy became the first woman to win the Grand Rampage match, eliminating Drake King in order to do so. She followed this up by challenging for the Universal Women's Championship at Pain for Pride and won, thus becoming the first legitimate two-time Universal Women's Champion. If that wasn't enough, Kassidy also became the first woman to compete inside of and win a Glass Wallz match.

Kassidy is the first woman of note to grace cover of EAW's official video game, getting his honor for EAW 2K22 [x]


War Games - Territorial Invasion 2018 [x]

vs. Mr. DEDEDE - Dynasty 12.14.2018 [x]

Iconic Cup Finals - Iconic Cup 2019 [x]

vs. Ahren Fournier - Pain for Pride XII [x]

vs. Darcy May Morgan - Dynasty 07.19.2019 [x]

vs. Serena Bennett - Operation: Doomsday 2019 [x]

World Heavyweight Championship Extreme Elimination Chamber - Road to Redemption 2019 [x]

vs. Sienna Jade - Pain for Pride XIII [x]

vs. Dr. Bethany Blue - Road to Redemption 2020 [x]

King of Elite Finals - King of Elite 2021 [x]

vs. Consuela Rose Ava - Grand Rampage 2021 [x]

vs. Jamie O'Hara - Pain for Pride 14 [x]

vs. Mr. DEDEDE II - Unaired Live Event 09.09.2021 [x]

vs. Limmy Mona_han - Territorial Invasion 2021 [x]

Answers World Championship Extreme Elimination Chamber - Road to Redemption 2021 [x]

vs. TLA - King of Elite 2022 [x]

vs. Ronan Malosi - Dia Del Diablo 2022 [x]

vs. Donovan Duke - Voltage 04.17.2022 [x]



BASIC DIVES/ AERIAL MOVES/ HIGH-RISK MOVES:

suicide dive

moonsault variations (off the top rope into the ring, to the outside, springboard style, off the apron to the floor, standing in the ring or on the outside)

shooting star press variations (off the top rope into the ring, to the outside, springboard style, off the apron to the floor, standing in the ring or on the outside)

tope con hilo

flying crossbody

flying spinning heel kick

diving leg lariat

diving hurricanrana

diving fist drop onto opponent's face

BASIC MOVES/ TRANSITIONS/ STRIKES:

step-up enzuigiri

snap german suplex

german suplex into a bridge style pin

dragon suplex into a bridge style pin

boxing style punches to the body (adapted from hubs)

precise kicks and strikes

sliding strikes to a seated opponent

basic transition holds such as wrist lock, leg locks, waist locks, head locks, ect.

drop kick (any variation really)

various takedowns such as clothesline, lariat, arm drag, using the hair, fireman's carry, ect.

douchebag moves such as biting, face rakes, back rakes, gouging opponent's eyes, snapping fingers, clapping ears, stomping on bent limbs, pulling hair

BASIC SUBMISSION MOVES/ WEAR DOWN TACTICS:

sleeper hold

bear hug (done to female opponents of similar size)

camel clutch

any variation of the boston crab

triangle choke

bow and arrow submission

rolling kneebar

basic armbar

abdominal stretch

brazilian heel hook

SPECIALTY MOVES:

"33" [x] (suplex de la luna)

"Go to Gawd" (spear; done in tribute to her loverface)

"King's Requiem" (springboard double knee armbreaker; kassidy will stretch her opponent's arm out, leap on the ropes, and land on the arm with both knees)

"The Shining" (running, leaping variation of the triangle choke that catches the opponent out of nowhere)

"Airheart" (flying headbutt; use sparingly and in situations of extreme desperation)

"Stargazing" (falling inverted ddt; can be done seated laying out, onto objects or off things; be creative)

"Heart Stopper" (heart punch)

"The Brighton Fly" (any variation of the spanish fly, done from anywhere)

"XoXo Kass" (figure eight leg lock a la charlotte)

"XoXo Kass Part II" [x] (spinning inverted figure four leglock)

"Konbanwah" [x] (zsj's 'yes i'm far away from home'; double arm trap figure four heel hook; can also force opponent into a pin)

SIGNATURE MOVES: (** denotes back-up finisher or quick finisher)

"Rapture" (helluva kick just like daddy's)

"DEDEDE DDT" (ddt variation stolen from ronn banks because ddd is daddy)

"CHANEL N°5" (clubbing blow to the back of the head, followed by a straight jacket suplex into a pin)**

"Norvina Lights" (spiked hurricanrana, driving the opponent's head into the mat or into the ground; can be hit in any situation)

"Painfully Ever After" (curb stomp to any part of the body, used in any situation)**

"Spiritual Giver" [x] (sit-out gory special back breaker)

"Maxx Solaris" (corkscrew shooting press; can be done anywhere, any variation, off of anything or; be creative)

"Maxx Solaris II" [x] (snap buckle bomb followed by a shooting star press into a pin)**

"Torture Lock" [x] (straight jacket triangle choke; kass can also do a 'super' version of this where she crosses their legs as well; this is mainly done just to toy with opponents and wear them down)

FINISHING MOVES:

"Gawd's Gift" [x] (avalanche cross armbreaker from the top rope, but feel free to be creative when it comes to variations of this finisher; that being said, once kassidy gets the arm straightened, she will chomp on the fingers to speed up the submission)

"Kassible Lecter" [x] (tornado double arm leg scissors followed by headbutts or bites to the shoulder; fka the louis vuitton of wrestling moves)

"Necro Mauler" [x] (the hurt lock a la bobby lashley and once the move is cinched in, kassidy will sink her teeth into the back of her opponent's head, arm, neck, or shoulder; this is used primarily on female opponents and small men like jake smith)

"Bind. Torture. Kill." [x] (zsj's 'hypernormalisation'; back mounted inverted surfboard)

ULTRA FINISHER. [x] "Thank U, Next" (kimura lock, stomps to the head, fujiwara armbar combination) - NO COUNTERS OR GETTING OUT OF

ULTRA FINISHER. [x] "Six Feet Under" (cross-armed gory special into a sitout powerbomb done off the ropes, apron, stage, ladder, ect., or through something such as a table, exploding table, ect.) - NO KICKING OUT



Coming Soon!


Having suffered multiple head injuries throughout her career, Kassidy knows that her days inside the ring are numbered. She competes every match like it's her last match, because it very well could be. She's never been a cautious individual and competes recklessly, and she's very ruthless. Her sheer will to win and to be successful is unmatched, and she gives every single match literally everything she has inside of her. She leaves it all out there.

Please be respectful of the reputation Kassidy has built for herself inside the squared circle. She has never submitted or quit before, has a lot of passion and heart, and she is very ego-driven and stubborn. She has more than proven she is one of the very best ever. She takes so much pride in the career she has built for herself and will do anything to protect what she has worked very hard for.
Accurate character portrayals in segments are very important to me, especially since they're the number one thing I pride myself on getting right as a booker. So if you have a question about something, please ask me.
Kassidy's ability to absorb punishment might be one of her biggest weapons. She thrives in extreme, ultraviolent situations and loves to spill blood... hers and her opponents. In dire situations, 'The Mauler' has the ability to show up and that personality is absolutely devastating.

Due to Kassidy's lack of control over The Mauler, she is kept under supervision by a team of professionals. They all travel with her, but the main person you will always see with Kassidy that isn't Mr. DEDEDE is her handler, Dasha Rybáriková. Dasha usually appears in scenes and character development pieces along with the rest of Kassidy's team.

More coming soon!